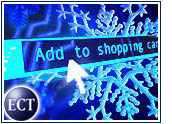 Two new reports suggest online holiday shopping has gotten an early start this year, possibly paving the way for a strong fourth quarter.
Nielsen//NetRatings said online shopping activity spiked 12 percent during the week ended November 3rd, with traffic particularly heavy in typical holiday categories, such as toys and consumer electronics.
ComScore/Media Metrix, meanwhile, reported that non-travel e-commerce rose 8 percent in the same week compared with the previous three weeks, and the toys category posted a 66 percent gain. Overall, comScore said consumer sales online totaled $1.39 billion in the week, up 37 percent from a year ago.
Transition Verve
Nielsen//NetRatings director and senior analyst Lisa Strand told the E-Commerce Times that online merchants appear to have snagged many shoppers with late fall sales and promotions.
"We usually don't see a jump in activity until after Halloween, but this year it started before that day," Strand said. "The fact that so much of the growth was in toys and electronics suggests this is holiday shoppers either buying or simply researching their purchases."
Strand said the trend may be good news for e-tailers who pine to spread out their fourth-quarter windfall over a longer period of time. Doing so would allow them to avoid the last-minute frenzy that has spelled disaster in holiday seasons of years past.
"Because there are more shoppers already, we're probably less likely to see as much of a marked increase around the last few weeks," Strand said, adding that the so-called online universe of total users has grown 9 percent from last year. "But it's still a good bet that there will be a lot of last-minute shopping."
Size Matters
Although some reports have suggested that small online merchants will gain traction this year, traffic figures from November indicate that the largest online sites saw the sharpest increases in visitors.
Amazon.com drew the most traffic, reaching 30.5 million unique visitors, or more than one-fourth of the total online audience. EBay ranked second, followed by Yahoo! Shopping, MSN eShop and BarnesandNoble.com.
In addition to toys, other categories that grew rapidly included apparel shops, which saw 24 percent more traffic, and virtual department stores, which rose 20 percent, according to NetRatings.
Quarter of a Loaf
Meanwhile, GartnerG2 said Thursday that the average U.S. online consumer will spend US$235, or more than a quarter of their total gift budget, on the Web.
The research firm's survey also revealed a high rate of return customers, with 98 percent of those who bought online last year planning to do so again in 2002.
GartnerG2 research director David Schehr said convenience, which is the primary driver of online spending all year, becomes even more important during the holidays. "Saving time and effort in gift-buying activities was cited by consumers as the number one reason why they opt to go online for a portion of their gift purchasing," he noted.
GartnerG2 predicted worldwide online sales this holiday will reach $38.2 billion, a 48 percent rise over last year. In North America, consumers are expected to spend $15.7 billion.