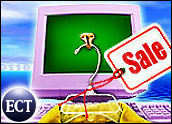 Ending weeks of speculation, Amazon.com has formally launched its apparel store, timing the debut to coincide with the start of the holiday season.
Amazons apparel store had been one of the worst-kept secrets in the online commerce world. Many analysts have long expected the company to enter the clothing sales arena, and during a conference call last month, CEO Jeff Bezos made reference to a "new store" becoming part of Amazon for the holidays.
Amazon has been beta testing the site with some customers for more than a week. The company said thousands of customers ordered clothing through its site during the beta test. As a result, the e-tailer handled sales of nearly 15,000 shirts and 20,000 other pieces of clothing.
Wait-and-See Attitude
Now, to encourage people to buy clothes through the site from one of its several apparel partners, including Gap, Nordstrom, Lands End, Target and Foot Locker, Amazon is offering a US$30 voucher to anyone who spends $50 on clothes.
The clothing store will offer Amazons signature customer-service features, including customer rankings and reviews.
But some analysts are taking a wait-and-see approach to Amazon's latest venture. The e-tailer's early success was built largely on selling items, such as books and CDs, that a consumer did not need to touch or see in person before buying.
Impact Seen
Forrester Research analyst Carrie Johnson told the E-Commerce Times that Amazon's clothing move will have an impact on holiday sales, since consumers are already comfortable with shopping on the site. "Amazon's involvement in apparel sales will give that category a boost," she said.
But Johnson and others also have hedged their bets on the fourth quarter, citing continuing economic uncertainty, which has finally reached online retail as growth in the sector has begun to slow, and a shorter-than-usual home stretch of just 27 shopping days after Thanksgiving.
Yahoo! on Board
Also on Thursday, Amazon announced it has hired former Yahoo! chief scientist Udi Manber, a well-known computer science expert and professor, to be its vice president and "chief algorithms officer."
Bezos said the hiring reflects the fact that Amazon's customer service initiatives require constantly changing and increasingly complex computer algorithms.