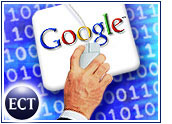 Search engine Google is virtually revered by the Internet community and is often profiled as a pure technology company that does not take commercial interests to heart. But those days are over. In the past two years, Google has inked revenue-generating deals with almost every major player on the Internet, stepped up efforts to secure the lion's share of Internet advertising dollars, and tested the waters in the news and e-commerce sectors.
Where are these ventures taking Google, and where is Google taking the Internet? It is more than an academic question: Google processes more than 150 million Web searches per day. By some accounts, 75 percent of the outside traffic to any given Web site originates on Google. Where Google goes, so goes the Web.
Searching for Advertising
Google's primary emphasis in the past year has been on developing its offerings and reach in Internet advertising. The company's text-based AdWords program has been a big success since its inception a year ago. And it is easy to see why: For text-based ads related to searches, click-through rates tend to be four to five times higher than for traditional banner advertising.
To place a text ad, advertisers choose which keywords they want to target. On Google, keywords are auctioned off: The higher the bid, the higher the ad will appear on the search results page. Click-through performance also factors in. The higher the click-through rate, the less costly the text link. "Irrelevant ads are dropped down the page, and advertisers who are more relevant will save money," Andrew Goodman, principal at search engine optimization firm Page Zero Media, told the E-Commerce Times.
But for revenue, nothing beats Google's premium sponsorship program, in which advertisers purchase prime real estate at the top of a search results page. "Google's probably looking to get 40 percent to 50 percent of [its] revenue [by] targeting big companies with those premium spots," Goodman said.
Eye off the Ball?
In addition, the company has expanded its advertising offerings by placing cost-per-click advertising on content-targeted Web pages. So far, the program has been piloted on such sites as HowStuffWorks and Knight-Ridder properties the San Jose Mercury News and The Philadelphia Inquirer. Amazon.com is the latest partner to sign up, giving Google advertisers a prime high-traffic site on which to attract customers. But the jury is still out on how effective this marketing program will be.
"I think the content targeting will be less lucrative because click-through rates are much lower," Goodman said.
Google also has moved into syndicating ads to ad networks such as FastClick and Burst Media, which serve smaller clients. With all this activity, Google and its competitors actually are running out of spots to place ads, according to Goodman. "There's a finite pie they're all fighting over."
Corporate Entre
The enterprise arena is another new frontier for Google. The company is getting its foot into corporate doors with its combined hardware and software approach to corporate searching. That solution, which is based on an Intel platform running Linux, is used by corporations to index the contents of Internet sites and to organize file shares, file servers and Web servers internally, Forrester analyst Laura Ramos told the E-Commerce Times.
"It has been selling relatively well," Ramos said of the search appliance, which was introduced about a year ago. "[Google] isn't specific about the number of people that are buying the product right now. I would guess they have 100 or so customers."
The corporate search market is not a huge one, however. For example, it is dwarfed by the relational database market, which deals in structured data.
Therefore, rather than serving as a paramount source of revenue, Google's corporate search product could be a launch pad into the wider realms of information retrieval and knowledge management, Ramos said. That would put Google in a market space led by such companies as Verity and Autonomy. There is significant demand by corporations for search tools that work across different applications, such as Web content management, customer support, e-mail and databases, she noted. "I think [corporate search is] potentially lucrative because of Google's brand and reputation."
What Comes Next
Overall, Google's next steps are unclear. Within the advertising arena, the company could begin to run ads on dedicated e-mail lists or even explore the use of pop-under windows, Goodman said. But a larger question is whether the companywill aim to become a traditional portal like Yahoo.
In a sense, Google is already a portal because a huge number of people use it as their browser home page. But the company would have to do a lot more to unify its search pages with its news and shopping search pages to really qualify as a portal destination. It also would have to offer e-mail services. "They have diversified, but almost all of those moves are still search," Goodman said.
Meanwhile, industry watchers are grumbling that Google could begin to lose credibility if too much of its business is ad-driven instead of search-driven. "They've put a lot of thought in trying not to alienate users" by using text-based ads that have to be relevant to the user's search, Goodman said, noting that "so far, we're not seeing any kind of backlash."
Red Flags
However, there is a dark side of Google's increasing reach: The company now is in a unique position not only to monopolize Web advertising, but also to manipulate Web searchers without their knowledge. Therefore, suspicious surfers are probing the company's motivations.
"Google has discovered there's a ton of money to be made, and they're going for the gold," David Brandt, president of Public Information Research, which publishes the Google-watch.org Web site, told the E-Commerce Times. "The only purpose for Google to crawl the rest of the [noncommercial] Web is to legitimize themselves as a search engine."
Brandt added that there are privacy concerns surrounding the cookies Google loads onto users' computers. The company uses these cookies to set user preferences, such as whether parental controls should be activated and how many results per page the user wants returned. But the cookies contain a unique ID number that Brandt contends is not necessary.
"Setting preferences in a cookie does not require a unique ID," he said. "I believe the reason they have a unique ID in there is that someday they want to sell ads based on user profiles. They could lump you into a certain user category and feed you tailored ads."
Brandt also finds fault with the Google News service, saying that the company lists press releases on its news site without labeling them appropriately. "What if Google started accepting corporate press releases for Google News and the relevance ranking was based on how much the corporation paid Google?" he said.
Alleged exploitation aside, Google has a lot of balls in the air, and it will have to pull together these diversified pieces of its business in order to grow. No doubt, watching how Google executes on that task will keep the rest of the Internet community busy.