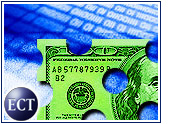 In the wake of a spectacular meltdown that featured financial shenanigans, overspending and broken promises, can the telecom industry recover and grow strong again? The answer is yes, industry experts say, but telecom faces a long road back — and it will not recapture the heights of three or four years ago.
Job one for carriers in 2003 will be to get the operational and financial sides of their houses in order, Aberdeen Group research director Dana Tardelli told the E-Commerce Times.
There are already signs that housecleaning is well under way, he added. For example, major telecom players are stabilizing or even increasing long-distance prices, suggesting that this market is somewhat healthier than it previously was. And on the wireless front, carriers are finally rationalizing their third-generation network buildouts and ratcheting down expectations about growth of wireless data services.
Chapter 11 – Again
The good news for telecom is that the worst is over, Yankee Group analyst Nancy Bedard told the E-Commerce Times. The bad news is that more bad news lies ahead. There are still too many suppliers competing for the telecom service dollar, especially in wholesale services.
As a result, when carriers like Global Crossing and WorldCom emerge from bankruptcy, they will face many of the same market conditions that plagued them earlier. In fact, the industry will suffer more bankruptcies in late 2003 or 2004 as these carriers run out of money again, Bedard said.
Do not expect a wave of industry consolidation to solve the problem anytime soon, Tardelli added. "We can clean up certain aspects of the marketplace, but on the competition front, I don't see any solution at hand," he said.
Even carriers with profits and positive cash flow have large amounts of debt, Tardelli noted, and therefore will focus on squeezing more from their existing infrastructure. In the end, he said, the industry will contract until it returns to its "natural" state of oligopoly, in which only a handful of players providing a given service can survive.
Thin Demand
And the bad news is not limited to a glut of competitors. Demand by consumers and businesses for communication services will see little to no growth in 2003. The economic slowdown has prompted consumers to tighten their belts, and enterprises are only upgrading the "bare essentials," according to Tardelli. Gone are the days when companies experimented with injecting cutting-edge technology, such as streaming video, into their networks.
Therefore, a glut of bandwidth is keeping prices soft. "There's still concern about being locked into a long-term contract because you may be able to get a cheaper price later on," Bedard said.
The one exception to weak enterprise demand could be in the wireless and mobile sector, where companies are still looking to leverage new technology, Giga Information Group research fellow Lisa Pierce told the E-Commerce Times. But the increase in hard dollar spending "won't be the major jolt in the arm that the telecom industry needs," she said.
Focus on Service
Another consequence of industry blight will be a lack of new products and services in 2003. The failure of innovative offerings such as managed Gigabit Ethernet services has caused carriers to recoil from risky investments, Tardelli said.
Instead, large carriers like the RBOCs (regional Bell operating companies, such as BellSouth, Nynex and Pacific Bell) will focus on customer service, especially for small and mid-size businesses, according to Bedard. Look for service providers to go to market with bundled offerings that include dedicated high-speed Internet access. "The RBOCs are well positioned within their home regions."
Within that market, service providers likely will experiment with elasticity of demand, Tardelli noted. This means that rather than confining consumers to "$20 dial-up connections or $50 fat pipes," carriers will be more willing to tweak pricing and packaging.
Down the Road
So, how long will it take for telecom to pull out of its nosedive? Do not expect a quick turnaround. The possibility of war with Iraq will dampen or postpone any U.S. economic recovery. And cleanup after a war could take another six months, according to Giga's Pierce.
Even if an economic recovery were to begin today, as a rule it would take another two fiscal quarters to trickle down to carriers, Pierce said, and even longer to reach vendors that sell to carriers.
That time estimate could push a telecom recovery into the second half of 2004 or even 2005, Pierce said. But "whenever a 'recovery' comes, the heydays of the late 1990s won't be seen again."