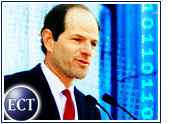 Seeking to recoup millions of dollars that he maintains rightfully belong to shareholders, New York Attorney General Eliot Spitzer has filed a civil suit against five telecom executives who profited from IPOs during the late 1990s and into 2002.
The five executives — including former WorldCom CEO Bernard Ebbers — all allegedly received access to pre-IPO stock from banking giant Salomon Smith Barney, according to the suit.
Although Salomon Smith Barney is not named in the suit, Spitzer claims the banking house delivered low-priced stock to the five executives, who then sold their shares on the open market after the IPOs. The practice is known as "spinning." In addition, Salomon won the underwriting and future banking business of the companies and gave positive stock recommendations.
"The spinning of hot IPO shares was not a harmless corporate perk," Spitzer said in a statement. "It was an integral part of a fraudulent scheme to win new investment banking business. And, once again, we see enormous pressure being placed on research analysts to issue misleading stock ratings in order to secure that business."
No Stranger
Spitzer has been targeting large New York-based investment banks over their tech and dot-com dealings for well over a year.
He already has achieved a US$100 million out-of-court settlement with Merrill Lynch stemming from charges that the banking giant gave inflated recommendations on dot-com stocks, including eToys, Pets.com and Buy.com, in the late 1990s.
That case resulted in an effort by Merrill and other banking houses to more clearly separate their banking and stock rating operations.
Confidence Indicator
In the long run, that move will help restore investor confidence, but repeated revelations of the double standards at stock rating firms will continue to make investors wary, Dartmouth College professor Kent Womack told the E-Commerce Times.
"It's going to take a long time before investors trust what they see is not biased in some way," Womack said. "This is a long way from being over."
Like the case against Merrill, Spitzer's telecom allegations stem largely from internal communications he has obtained.
He cited internal e-mails in which brokers described famed telecom analyst Jack Grubman as "unethical" and a "disgrace" for his alleged pumping-up of many telecom stocks. Grubman already has been sued by national securities regulators.
State Facts
Spitzer said that under New York's Martin Act and Executive Law, he is not required to prove the existence of a straight quid-pro-quo, but only that material facts that could affect the value of an investment were not disclosed. The fact that executives made huge IPO profits and entered into banking deals with stock rating firms was never made public.
"The executives received huge perks from a vendor who sought their business," Spitzer said. "This clearly was unjust enrichment, and it violated the disclosure requirements of state law. Uninformed shareholders, meanwhile, lost millions of dollars when the stocks in the defendants' companies crashed."
Of the five executives named, only Metromedia Fiber Networks chairman Stephen A. Garofalo continues to hold his position. In addition to Ebbers, the others are former Qwest Communications chairman Philip F. Anschutz, former McLeod USA CEO Clark E. McLeod and former Qwest CEO Joseph P. Nacchio.
Ongoing Problem
Citing one example of the problem, Spitzer said WorldCom executives, including Ebbers, received access to stock in 21 IPOs starting in 1998, with Ebbers pocketing some $11 million in profits as a result.
During the same time frame, Salomon handled 23 banking deals for WorldCom, earning more than $100 million in fees.