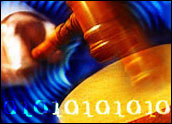 Apologizing for "inappropriate communications" but not admitting wrongdoing, Merrill Lynch has reached a US$100 million settlement with New York and other states. The deal ends the first phase of a potentially lengthy investigation of Wall Street analysts' behavior during the tech stock boom of the 1990s.
Merrill Lynch will pay $48 million to the state of New York and $52 million to other states as part of the settlement. The company also agreed to implement several changes in how it is organized internally, further separating its investment banking and stock research wings.
Questionable Behavior
The allegations arose from analyst behavior during and immediately after the incredible rise of Internet and related technology stocks. During the investigation, New York Attorney General Eliot Spitzer revealed e-mails that showed stock analysts privately referred to stocks as "dogs" while publicly maintaining buy ratings.
"We sincerely regret that there were instances in which certain of our Internet sector research analysts expressed views that at certain points may have appeared inconsistent with Merrill Lynch's published recommendations," the brokerage house said in a statement.
"Real reform is the key to restoring investor confidence," Spitzer said. "This agreement changes the way Wall Street will operate — severing the compensation link between the research and banking divisions that tainted investment advice."
Pay Revamp
The settlement calls for analysts to be paid based on their stock rating performance, not on whether they help generate investment banking business; for an internal committee to review all stock ratings; for e-mail and other communications between investment bankers and ratings analysts to be monitored; and for a compliance officer to be put in place to report on the new policies after one year.
"The actions we're taking ensure that analysts are compensated only for activities intended to benefit investors," Merrill Lynch chairman David H. Komansky said in a conference call. "Our goal all along has been to increase investor confidence in our ratings and in all of Wall Street."
The new policies augment an earlier agreement by Merrill to disclose its banking relationships with stocks it covers and to begin tracking how its stock ratings break down, with an eye toward balancing out ratings to include more neutral or reduce/sell recommendations.
By not acknowledging wrongdoing, Merrill has retained the right to defend itself against a host of private lawsuits filed in connection with the same stock bubble. Some of the pending suits — more have been filed in recent days — single out former Merrill Internet analyst Henry Blodget.
Boosting Confidence
The reforms should help increase investor confidence in analysts, who many feel had become too powerful and who often were working for their own gain rather than for investors' benefit, Dartmouth College professor Kent Womack told the E-Commerce Times.
"Separation is definitely a step in the right direction," said Womack, a former Goldman Sachs executive. "Analysts need to operate independently in order to have credibility in the eyes of investors. That may be easier said than done, however."
Even with no direct ties to compensation, stock analysts still may be motivated by a desire to improve their company's overall performance. And Womack noted that despite recent revelations, analysts remain a powerful presence on Wall Street, able to move stock prices and trading volume considerably with their recommendations.
Dot-Com Fallout
The settlement comes about a month after a judge cleared the way for further investigation of Merrill Lynch. That ruling followed Spitzer's presentation of 100,000 pages of documents, which he said showed that Merrill analysts were encouraged to give positive stock recommendations to help the company win investment banking and underwriting business.
The allegations focused mainly on dot-com clients, such as Pets.com, Buy.com, eToys, GoTo.com (now known as Overture) and InfoSpace.
Meanwhile, Spitzer has made it clear that other brokerage houses face similar scrutiny. Other states have opened investigations of their own, as has the U.S. Securities and Exchange Commission.