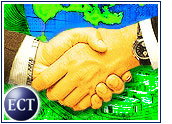 Motorola has signed a 10-year global IT infrastructure outsourcing pact worth US$1.6 billion with Computer Sciences Corporation (NYSE: CSC), the largest such agreement in Motorola's history and a healthy sign for the outsourcing business.
"Outsourcing has been on the rise for the past 12 months, and it is continuing to gain momentum," Yankee Group senior analyst Carrie Lewis told the E-Commerce Times.
Under the agreement, which becomes effective May 1st, CSC will manage Motorola's mid-range, desktop and distributed computing infrastructure worldwide, including data centers. It also will handle Motorola's global IT help desk and network infrastructure functions.
"We wanted to get a significant improvement to our cost structure — [moving] from fixed to variable costs — address our service levels and address 'technology refresh' going forward," Mike Manley, corporate vice president and directorof global infrastructure solutions at Motorola, told the E-Commerce Times.
In addition, as part of the agreement, CSC will acquire certain Motorola IT infrastructure and network assets. Motorola declined to specify what those assets might be.
Cost Cutting
The agreement will provide Motorola with significant savings compared with its current in-house approach, Manley said. "CSC provides a variable cost model, one that is flexible," he said. "When our business needs go up or down, those costs are adjusted. That allows our costs model to fluctuate based on actual usage."
In addition, CSC can perform Motorola's IT functions more cheaply because it supports a wider variety of customers and therefore can spread costs over its entire customer base, Manley noted.
Motorola declined to put a dollar figure on its savings. "We wouldn't be pursuing this deal unless there [were] significant savings," said Margot Brown, a spokeswoman for Motorola.
"Cost cutting is what's driving these deals across verticals," the Yankee Group's Lewis said. "Motorola [is] looking to trim [its] costs in the short term and in the longer term to increase [its] efficiency."
Turning a Corner?
The contract is a mutual win for the two companies, which have undergone stressful periods because of the downturn in IT and telecommunications. Motorola needs to reduce costs as part of its plan to emerge intact from the slowdown. The company has undergone significant restructuring in the past two years.
For CSC, the contract is a major victory. Lackluster global demand for commercial IT services in financial services and for short-term, project-oriented services has caused the company to suffer. For its third quarter ended December 27th, revenues at CSC totaled $2.8 billion, a 3.5 percent decrease from fiscal 2002.
"This is a good win for CSC," Lewis said "They've lost some deals this year. This shows they are continuing to go after the market for infrastructure outsourcing."
The bright spot for CSC has been its work with the U.S. government, which continues to increase as the federal IT budget increases. About 40 percent of CSC's revenues come from the federal government sector. The company recently inked two contracts with NASA totaling $88 million.
Employee Shift
About 1,300 employees in Motorola's IT infrastructure departments will join CSC as part of the agreement. More than half of those workers are based in the United States. The rest are located in the Europe, the Middle East, Africa and Asia-Pacific, with a small number in Canada and Latin America.
Transfer of employees will begin May 31st and will be completed worldwide by July 31st, according to Manley. All of them will be offered compensation packages comparable to what they were earning at Motorola, he said.