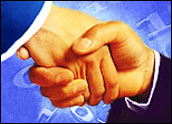 In a move that likely indicates companies will not return to vigorous spending on telecommunications equipment anytime soon, Cisco Systems has inked a deal with SBC Communications to offer outsourced communications services.
Cisco will provide its network engine to SBC, which will work with Cisco to market the outsourced services. The two companies will target small and mid-size enterprises that want to take advantage of technological advances but cannot afford to invest in new equipment.
Alphabet Soup
As part of the three-and-a-half-year, nonexclusive deal, SBC, the second largest local phone company in the United States, also will use Cisco technology for its core network infrastructure. The two companies have been aligned for some time already, with SBC serving as a reseller of Cisco equipment.
The companies will market voice and data networking solutions, including virtual private networks (VPNs), storage networking and wireless local area networks (WLANs) from Cisco, along with custom solutions designed and implemented by SBC and operated through SBC service centers.
Some of the services are available now, while others will roll out during 2003 and 2004, the companies said.
Managing To Sell
Cisco and SBC are pitching a managed services model already employed heavily by enterprises for information security services. While it remains to be seen whether the SBC deal will spur more companies to make the leap to more advanced communications networks, some analysts note that the managed services model makes sense in tough economic times.
"The push toward outsourcing makes sense in this environment," IDC research director Ken Presti told the E-Commerce Times, noting that both companies may gain additional exposure in new areas through the deal, with SBC introduced to Cisco's enterprise customers and Cisco becoming more accessible to small and mid-size firms. "But the sensitive nature of the networks will create a marketing hurdle for the companies to overcome in terms of making customers comfortable with the idea and the process."
Yankee Group analyst Sandra Palumbo said outsourced options are particularly enticing to the growing number of companies with "tight capital budgets" that restrict their ability to invest in new technology — even if that expenditure might improve business efficiency.
Minimizing Risk
SBC group president Ray Wilkins said outsourcing is a good fit for businesses that need high-tech communications services but also need to minimize costs and risk — including the threat that a major investment will be rendered obsolete before a corporation can reap ROI from it.
Once a powerhouse and flag-bearer for the new economy, Cisco now could use the boost that the SBC deal may provide. The company's stock was up in pre-market trading, but during the regular session it fell a few pennies to US$13.67. Shares of SBC were unchanged at $27.13.
The Little Guys
Morningstar.com analyst David Kathman told the E-Commerce Times that Cisco has never relinquished its title as the leading provider of networking equipment; rather, the market fell out from under it.
"Companies just stopped investing, especially the small and medium business [segment] that everyone thought was going to be a growth engine going forward," Kathman said.