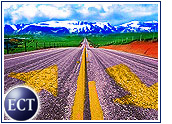 IBM wants to help enterprises clean out their patchwork, outdated programs and transform them into shiny new applications that can take advantage of Web services protocols.
The company has announced a new initiative designed to help customers reduce the cost and complexity of maintaining old software applications dating back to the "green-screen" era. Such applications run 70 percent of the world's major business operations, including most major credit card transactions and stock trades.
Called "spaghetti code" by the computer industry because the sourcehas been altered so often, such programs also handle about 30 billion basic business transactions every day, including manufacturing processes and payroll systems.
For the most part, they are Cobol and Fortran systems that date back as far as the 1960s, Kathleen Ryan, a spokesperson for IBM, told the E-Commerce Times. "These apps grew along with the companies. If you're operating a manufacturing plant using one of these applications, you can't just pull it down" and work on replacing it. In addition, it costs about 80 cents of every dollar of the average software budget to maintain such legacy systems.
"Taking out costs is the near-term critical issue," Stephen Lane, research vice president at Aberdeen Group, told the E-Commerce Times, adding that companies need to consolidate and migrate applications to lower-cost platforms. "There are also legacy transaction processes [and] legacy data that companies need to provide more flexible access to."
Transforming Services
The services IBM is introducing in conjunction with this initiative are designed around the work IBM Global Services did for IBM in chopping back its own mammoth IT infrastructure. At one point, Ryan said, IBM had 25,000 applications; it now has 5,000. It also reduced its number of data centers from 155 to 11 and its number of networks from 31 to one.
"We did this for ourselves, and now Global Services is making the same services available to customers," Ryan said.
The two new services are called Application Portfolio Management and Legacy Transformation. Application Portfolio Management services will enable IBM consultants to evaluate all of an organization's applications and make recommendations on which ones to keep.
Legacy Transformation includes several modular services that can be used to renovate, integrate, migrate and place applications on the Web, enabling companies to share business data both within their organization and with suppliers and customers. The services are available now worldwide.
Sorting Out Apps
Both services help companies determine which applications to keep, which to abandon and which to preserve, clean up and make accessible by Web services, Ryan said.
"It's not only that you have old applications that programmers are putting band-aids on, but you also have multiple pieces of packaged software that don't talk to one another," she noted. "By Web enabling the applications, you can have e-business and on-demand software applications and a unified system with customers and suppliers."
According to Aberdeen's Lane, a critical piece of the services IBM is providing is the ability for these projects to be self-funding. Companies can work on reducing costs first, then focus on transforming old applications when they are ready. "It's an incremental process, and that's how they've set things up," he explained.
New Software
IBM also is introducing new WebSphere tools that will speed development by simplifying the skills needed to create Web services-based applications.
These tools are called WebSphere Studio Enterprise Developer Version 5 and WebSphere Host Access Transformation Server. Both are designed to make it simpler for programmers to connect mainframe and minicomputer applications to other applications using Internet protocols.
The tools will help developers transform "green screen" applications running on IBM zSeries servers to a point-and-click interface delivered to Web browsers. Mainframe developers will be able to cut development time by using a template to "Web-enable" thousands of green screens in a single keystroke, rather than manually converting them one by one.
The software will help IT departments delve into legacy applications and look at the workflow and interconnection between different transactions and data, Lane said. "You have to go in there and untangle that spaghetti — separate out the business processes from the application functions from the data."
Small Business Push
IBM also announced other moves to help push its software and services into small and mid-size businesses. The company introduced Platform Express, a bundle of software and servers that includes WebSphere Express and DB2 Express on Intel-based servers running Linux.
The hope is that by using these tools, third-party developers can more quickly build custom applications for small and mid-size businesses.
IBM announced the new services and software at its developerWorks Live conference in New Orleans, Louisiana.