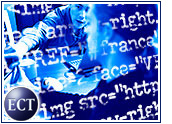 The hype surrounding Web services, a technology that many once thought was destined to revive the Internet economy, has faded. In its wake has come slow but steady adoption as businesses find ways to leverage Web services to increase efficiency and improve customer relationships.
Believers in Web services say this is still a true disruptive technology, one that will change the way enterprises interact with customers and with each other. In other words, the revolution is still coming — it has merely been delayed a bit. Instead of overnight change, there has been slow evolution.
"We are well past the point of inevitability," Drew Engstrom, senior marketing strategist for Web services at Sun Microsystems, told the E-Commerce Times. "On one level, the sale has already been made. Businesses are on board but still figuring things out."
There are perhaps two or three hurdles remaining, such as security and universal standards, he added. But despite those obstacles, businesses have begun to embrace the idea that Web services can help them realize the true potential of the Internet.
Developing Picture
Supporting this contention, Gartner analyst Raymond Wagner told the E-Commerce Times that developers and integrators led the way in adopting Web services in 2002 — a necessary but preliminary step toward bringing Web services to the level many believe it eventually will achieve.
"The ones writing applications and developing the environment — they can't wait around for standards to be ironed out," Wagner said. "Microsoft, IBM, Sun — they all want to have developers put their own special imprint on Web services before it grows up."
This is not to say Web services has not reached the masses at all. Many consumers no doubt already reap the benefits of behind-the-scenes projects. For example, auction runner-up uBid.com and Yahoo! Shopping both use Web services to better connect buyers and sellers.
Taking the Lead
And some sectors are starting to take the lead. In healthcare, for example, federal regulations are pushing technology development forward at a rapid pace.
For Providence Health Systems, Web services provide a way to make it easier for members, doctors and others to obtain key information and for the company to move closer to compliance with new regulations.
Working with Redwood City, California-based software maker Infravio and building on Microsoft's .NET platform, Seattle, Washington-based Providence Health was able to tie its Web site into several existing databases and other legacy systems. The result was a system that dramatically cut the time required for a patient to make an appointment or for a doctor to access records.
"For us, the struggle was in finding a way to tie all our existing systems together without rebuilding everything," Mike Reagin, director of research and development at Providence Health, told the E-Commerce Times. "We wanted our members to be satisfied customers when they left our Web site."
.NET Gets Real
Another firm, Narragansett Technologies, developed its latest e-mail marketing software using the Microsoft .NET Visual Studio tool. The company's software is designed to help marketers measure the effectiveness of e-mail campaigns based on the number of messages opened or forwarded.
Narragansett CEO Chris Byrne said .NET Web services tools sharply reduced the time it took developers to complete work on the product, taking it from concept to completion in about six months. The availability of sample applications on .NET and the ability to deploy and test the product with the Web services tool were essential as well, he said.
Yes, It Is Rocket Science
IBM also has started to collect a shelf full of Web services success stories, which it uses to highlight the potential of this technology.
One of the most striking anecdotes is that of Photon Research Associates, which analyzes U.S. satellite performance. The company hired IBM to improve how the images downloaded from satellites are distributed to commercial and intelligence community end users.
Using WebSphere servers and consulting help from IBM's services division, the company is setting up a single server that will enable customers who drive the US$2 billion-a-year market for remote sensing to get their images from a single location.
Certainly, the Web services era has only begun. Though economic doldrums have nixed a lightning-fast adoption curve, what lies ahead may still remake the fabric of the online world.