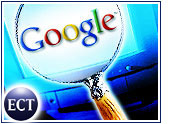 Google and Amazon.com have tied the knot in a deal designed to expand Google's advertising presence and give Amazon.com users greater access to products not listed on the e-tailer's site.
The multiyear agreement will make Google's search technology and targeted sponsored links available on Amazon.com within the next several months. In fact, sponsored links are already available on a selection of Amazon.com Web pages.
"This is an opportunity to give our customers the most relevant, useful information possible," Amazon.com spokesperson Drew Herdener told the E-Commerce Times. "If there are things we don't necessarily have on Amazon.com, the Google search engine will allow them to find those things."
Sponsored Links
Google sponsored links will appear on Amazon.com product pages, Herdener explained. For example, if a user clicks to a product page for a Bruce Springsteen CD, the bottom of the page will display links for other recommended products, such as tickets to a Bruce Springsteen concert.
"The link takes you to the actual page where tickets are available on that site," Herdener said. "It's a link to the actual products we're trying to lead [the user] to," not just the home page of the advertiser's site.
Terms of the deal were not disclosed, and Herdener said it is too early to tell if Amazon.com will realize revenue from the sponsored links. In similar sponsored-link arrangements, if a user clicks on a link, an advertiser pays both Google and the host site a fee.
Google's Web search capability also will be used on Amazon when a user is trying to locate a product on the e-tailer's site. The search results will list other sites that might sell a product that is not available on Amazon.com, Herdener said.
Expanding Ad Program
The move underscores Google's continuing foray into the Web advertising market. For Google advertisers, it means access to a large amount of new traffic in the form of users who browse the Amazon site.
"Amazon is yet another property that adds very valuable reach for our advertiser base," Joan Braddi, vice president of search services at Google, told the E-Commerce Times. Google has several e-commerce sites already as partners, including Dealtime, BizRateand the Ask Jeeves shopping channel.
Google emphasized it will remain focused on text-based ads, which have proven to be more successful than traditional banner ads. "Our text-based ads obtain click-through rates that are five times higher than traditional banner ads," Braddi said. "We're very focused on the search query and pooling many more advertisers."
New Competitors
Google recently began syndicating ads to online advertising networks Fastclick and Burst. And in early March, the company introduced a new marketing program called Content-Targeted Advertising, in which it identifies the meaning of a Web page and automatically places relevant ads. Advertisers are charged on a cost-per-click basis and can place ads on Google's partner sites. Participating partners include HowStuffWorks and Knight-Ridder properties the San Jose Mercury News and The Philadelphia Inquirer.
Google's new advertising method puts it in direct competition with advertising networks 24/7 Media, Avenue A and DoubleClick.
This content-targeted ad program is in contrast to Google's AdWords program, in which advertisers bid for placement in the text-based "sponsored listings" section of the Google site.
Google's other partner Web sites include AOL, Ask Jeeves and EarthLink.