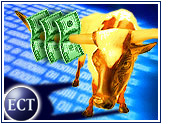 Bellwether e-tailer Amazon.com booked its second-ever profit in the fourth quarter as shoppers flocked to the site for holiday purchases, helping push revenues to record levels that surpassed analysts' expectations.
Amazon said it took in US$1.43 billion in the fourth quarter. Net income was $3 million, down from $5 million last year. Amazon still racked up a net loss of $149 million for all of 2002.
The company also raised its 2003 targets, predicting a possible 15 percent sales increase for the year and growth of up to 27 percent in the first quarter.
The combined good news prompted a slew of brokerage houses to raise their own expectations. Morgan Stanley said it has "confidence in outlook for growth opportunities," while Salomon Smith Barney raised its rating on the stock to outperform.
Amazon shares rose in early trading Friday, gaining 6 percent to $23.09.
Ship Free or Die
Amazon also announced it will make its free shipping offer, which applies to most orders of more than $25, permanent after an experiment that lasted well over a year.
In fact, the company plans to expand the shipping promotion to its UK site, even though free shipping cost the e-tailer $30 million in the fourth quarter and will likely cost another $100 million in 2003. Amazon said that despite the promo, it still collected $121 million in shipping fees during the fourth quarter.
"We've looked at it in a number of ways," chief financial officer Tom Szkutak said in a conference call. "We think we will see a great return on this investment over the long term."
Partnerships and Volume
GartnerG2 research director Geri Spieler told the E-Commerce Times that the earnings reinforce the idea that Amazon has pursued the perfect online sales model by controlling the sales process, rather than merely acting as a portal that refers customers to merchant partners.
"Those partnerships have helped tremendously," Spieler said. "Amazon gets a piece of nearly all of the sales and so as volume goes up, their performance does as well."
The sheer volume of business that Amazon does also helps it get bulk rates on costs such as shipping. "The fine print is that you don't get free shipping on everything, of course," Spieler said. "But it's clearly drawing people to the site and it's a big competitive help as it goes more head to head with eBay."
Bargain Basement
Nielsen//NetRatings senior analyst Lisa Strand agreed, telling the E-Commerce Times that shoppers have come to expect discounts, such as Amazon's free shipping deal. EBay also highlighted free shipping during the holidays, and Buy.com, which has vowed to beat or match Amazon on prices in some categories, continues to offer free shipping with no minimum purchase.
"The Web was initially a place where people went for convenience primarily," Strand said. "But as the economy has changed, cost has been coming up more and more as a motivation for buying online. We saw a lot of bargain hunting in the holiday season, and it appears Amazon benefited from that."
GartnerG2 analyst David Schehr said in a recent report that Amazon also is benefiting from the demise of many other online retailers. He estimated that one of every four online shoppers bought items at Amazon or one of its associate retailers during the holiday season.
Business as Unusual
Neither the fourth-quarter profit nor the strong sales were a total surprise. Amazon posted its first-ever profit during the fourth quarter of 2001, and by almost all accounts, the 2002 holiday shopping season was a banner one for online retail, with analysts estimating strong double-digit gains in an otherwise paltry retail environment.
During the conference call, CEO Jeff Bezos said Amazon is at a "tipping point," with customers turning to the site "as much for our lower prices as for our selection and convenience."
"Amazon still isn't close to being a mature business in the normal sense of that phrase, but it has reached a sort of plateau of maturity," Morningstar analyst David Kathman told the E-Commerce Times. "The focus has shifted away from survival and toward the details of its long-term business plan. The issues now are how profitable it can become and whether it can keep growing."
Questions Remain
Questions still remain, however. For example, some industry observers wonder if Amazon's electronics, tools and kitchen segment will ever achieve profitability. Kathman said he is not sure how long Amazon will let the segment continue to drag down overall results before "Bezos decides to cut his losses."
In addition, it is still a mystery how much Amazon's apparel store, which launched in November, contributed to the bottom-line profit. Bezos would say only that thousands of shoppers bought clothes through the Amazon site.
In addition to holiday sales, growth also occurred overseas, where revenue grew 76 percent. Amazon said international sales topped the $1 billion level for the first time.