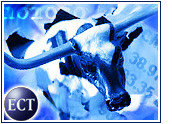 Continuing to set the standard for both growth and profit among e-commerce companies, eBay has reported fourth-quarter income and revenue that far outpaced expectations.
Buoyed by bargain-hunting holiday shoppers and traction in high-ticket categories, the online auction giant saw Q4 sales rise 89 percent to US$413.9 million. The company also booked a profit of $87 million, more than tripling its year-ago income of $25.9 million.
Outlook Standout
Microsoft and IBM also reported earnings that beat expectations Thursday — but in both cases, as with Intel earlier this week, the companies were cautious in their outlooks for the rest of 2003.
In sharp contrast, eBay's fourth-quarter momentum prompted it to boost its 2003 forecast, raising its high-end target by $70 million. The company now says total revenue in 2003 could reach $1.9 billion.
"EBay remains in rapid growth mode," US Bancorp Piper Jaffray vice president and senior research analyst Safa Rashtchy told the E-Commerce Times. "There were a lot of skeptics who said they couldn't sustain it, but so far, they've proved them wrong."
$1B Barrier Broken
The strong fourth quarter helped push eBay's 2002 yearly sales total to $1.21 billion, up 62 percent over 2001 levels, marking the first time the company's revenue broke through the billion-dollar level.
EBay CEO Meg Whitman called 2002 a special year that investors and analysts will come to view as a pivotal point in eBay's history.
"Our performance fully validates our long-term strategy and sets the stage for all we hope to accomplish in the months and years ahead," Whitman said in a conference call. "EBay is poised to be one of those great companies that only come along once in a generation."
Did It eBay
Whitman said eBay's aggressive holiday marketing push paid off, with more new customers visiting the site in the fourth quarter, and toys and other holiday items selling well. The number of registered users rose 46 percent during the year.
In fact, chief financial officer Rajiv Dutta said eBay is likely to see more seasonal shifts in business going forward, with stronger-than-usual fourth quarters.
"We are seeing increased seasonality," he noted. And in response to strong holiday sales, "we also expect to see increased competition" from other online companies and traditional retailers.
During all of 2002, $14.87 billion worth of merchandise was sold on eBay. The company's results fourth-quarter were the first to reflect the $1.5 billion acquisition and integration of PayPal, with transaction revenue soaring to $77.7 million from $5.6 million the year before.
One of a Kind
Although the earnings report was good news for eBay investors and fans of the site, analysts said it is harder to determine what eBay's success and optimistic outlook mean for the tech sector in general.
"It's a unique company in a lot of ways," Rashtchy said. For example, she noted, perceived bargains at the site may actually boost sales in an economic downturn.
Whitman seemed to agree. "We benefit in weak economic times," she said. "The adaptive nature of our marketplace enables our entrepreneurs to react much faster than we ever could."