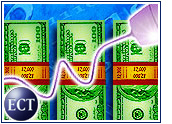 The e-tail universe has seen tremendous consolidation since the dot-com bubble burst. The list of online-only retailers that wound up on the Internet scrap heap is too long to mention. But the idea of selling consumer products to people via the Internet has not suffered. Indeed, more people are buying online every day.
Air travel, consumer electronics and apparel are three of the hottest categories of consumer products sold online, IDC research manager Jonathan Gaw told the E-Commerce Times. The question on the minds of many small e-tailers may be, why are these the standouts — and can they enter the fray and achieve success by targeting these areas?
Big-Ticket Bonanza
Online is "an optimal place for big-ticket items that you want to spend some time shopping for," Don Addington, director of business operations at Travelocity.com, told the E-Commerce Times. "Other online channels haven't offered consumers the same level of involvement in the shopping research process. It's also an overall lifestyle change. People find it more advantageous to sit down and turn on their computer than to get into the car and drive to a travel agency."
That is one reason why online air travel purchases have survived the terrorism threat and continue to grow at a fast pace, Addington said. In 2002, about 12 to 15 percent of travel purchases in the United States were booked online.
Travel also is well suited to online retailing because it is a service — the buyer does not have to "try anything on," Addington noted. The public is also familiar with the product, and nothing has to be shipped, especially given the increased use of electronic ticketing in the airline business.
Trying on Apparel
It stands to reason that books, music and videos are a hot category: They were the first products to sell in mass quantities online, and they still represent the lion's share of consumer goods sold through the Internet. But other categories are catching up. Recognizing this, established online retailers, such as Amazon.com are branching out.
For Amazon, sales in the books, music and DVD/video segment grew 14 percent in the fourth quarter. Electronics, tools and kitchen accessories grew 21 percent. But the fastest-growing "store" was the e-tailer's newest category — apparel and accessories. This category, which includes brands such as Levi-Strauss, the Gap and Nordstorm, was the fastest-growing store in terms of units sold in the first 60 days after it opened in November 2002.
"Amazon.com is doing a much better job of partnering with brick-and-mortar players like Target and Toys 'R' Us," Gaw said. "They're looking to replicate those arrangements with other companies."
Tangible Limits
Sales of some items are still limited by the "tangibility" factor, however. For example, consumer electronics is a hot category, but some electronics products simply will not sell online because customers need to touch and feel them before making a purchase decision, Yankee Group senior analyst Ryan Jones told the E-Commerce Times.
Jones added that online salability depends on whether a product is bought with qualitative or quantitative factors in mind. Televisions and stereos are a prime example of qualitative products that many customers want to test in person before buying. In contrast, quantitative products like MP3 players, home networking kits and cell phones — for which feature comparisons often come down to a numbers game — sell well on the Web.
Complementing Offline Stores
Walmart.com, one of the most innovative e-tailers, is finding that depth of offerings counts as much as breadth.
At Walmart.com, the goal is to complement what consumers can find in Wal-Mart's ubiquitous retail stores, said Cynthia Lin, a spokesperson for the site. "Customers are gravitating toward items that they can't necessarily find at the Wal-Mart store — they want the deep assortment in certain categories. It makes sense because the stores have limited store space; online we have no space restrictions."
For that reason, consumer electronics are selling well online, Lin said, as is home furniture. Mattresses have been doing particularly well, and they are not even offered in Wal-Mart's physical stores. "I think customers are also looking for the convenience of having it delivered straight to [their] door," Lin noted.
Using the Medium's Strengths
Jewelry is another product category that is selling well for Wal-Mart. Lin said one reason for this category's performance is a "ring configurator" that allows online customers to design their own keepsake diamond rings by inputting the shape of the stone, diamond size and quality, ring setting and ring size.
But Wal-Mart also has recognized that services are a profitable area to be in. Two months ago, the company launched an online DVD rental subscription service. Buyers pay US$18.86 for unlimited rental time of a DVD that is delivered straight to their door. Walmart.com also hawks cruises and rental cars and operates its own Internet service provider. "Most of our services have been well received," Lin said.
If at First You Don't Succeed
Some products, of course, never will sell well online. Pet food and products have been a disaster, as have groceries. But that does not mean new companies will not crop up, trying to cash in on what seems like a great idea.
The dot-com crash, the sagging economy and the threat of imminent war with Iraq have not stopped consumers from buying online, or stopped online retailers from increasing the number and types of products they hawk on the Internet, Addington said. But they do have to be careful about spreading themselves a mile wide and an inch deep.