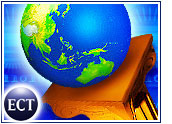 For enterprises that want to cut IT costs, one answer is to ship some high-tech work overseas, to places like India, Singapore, the Philippines and even Russia or China.
Generally, cost savings for a company range from 25 to 40 percent. "A lot of companies that haven't looked at this already are starting because it is hard to ignore — especially in this economy — the financial advantages [of] doing this," Gartner research director Frances Karamouzis told the E-Commerce Times. "So, if you can get it to work, it can be beneficial."
Shipping Work Overseas
Indeed, the trend toward outsourcing U.S. IT work to overseas firms will not wane anytime soon. A total of 3.3 million U.S. service industry jobs — IT, back office, customer service and sales — will go overseas in the next 15 years,according to Forrester Research. That translates to US$136 billion in U.S. wages lost to foreign workers.
Meanwhile, Gartner has forecast that the IT outsourcing market in NorthAmerica will grow from $101 billion in 2000 to $160 billion in 2005. Andthe research firm's Dataquest unit said 26 percent of companies already using offshore services expect to double their spending in this area within the next year.
In software development alone, major firms like Oracle and i2 Technologies are following the path blazed by other Fortune 1000 companies to low-cost development centers, such as India.
It's the Economics, Stupid
Besides cheaper labor rates, technology itself has helped spur the raceto hire overseas help. The cost of high-speed bandwidth has fallen as a result of telecommunications deregulation and new undersea cables. This means not only that digital work can be electronically shippedfaster and cheaper, but also that overseas partners can be managed via videoconferencing links, according to a recent Forrester report.
Technology also helps with overseas management through Internet-basedcollaboration tools and standardized business applications — the latter ofwhich also means projects are easier to outsource to other firms.
Another advantage of using overseas workers falls into the "time-is-money"category: U.S.-based teams and overseas workers can work virtually aroundthe clock because of time differences.
Overseas IT outsourcing also can help with what Gartner's Karamouzis called"peaks and valleys" at companies. "If you have a big project where you need50 people, instead of hiring those 50 people right then and there, you cango to a service provider that can give you good quality and a good price,"she said. "Then, when you no longer need them, it's not like you need to layoff all of those people."
Management Issues
Although overseas outsourcing can be of great benefit to a company's bottomline, the work process between a U.S. company and an outsourcing concern can easily go off course without firm management processes in place. "If youmanage it inappropriately, you're going to have a serious headache on yourhands," Yankee Group programmanager Andy Efstathiou told the E-Commerce Times.
Companies that have mastered overseas outsourcing have sound businessprocedures as well as good management in the remote country, eitherthrough partnerships or direct subsidiaries. "After they became morefamiliar with the environment, they generally either buy out the jointventure partner or set up their own subsidiary over there," Efstathiou said.
Offshore IT outsourcing operations tend to be "subservient," though, whichcan lead to development problems. "[The outsourcers] don't have a lot of industry depth or a lot of business-process depth," Gartner's Karamouzissaid. "One of our clients' major complaints is [that] because they don't have those skills, their projects don't have any added value, innovations or insights."
What About the Small Fry?
Because of logistics and management concerns, small- to medium-size businesses (SMBs) are less apt than Fortune 1000 companies to go the outsourcing route. The large enterprises are usually the ones that set up their own subsidiaries in lower-cost countries.
"How small to medium-sized companies benefit from this is if such a companywent to an Accenture for its help," the Yankee Group's Efstathiou said.
Even so, SMBs are expected to become a bigger force in this area. Forresterhas forecast that such companies will account for 10 percent of all outsourcingby 2005 — up from just 1 percent today.
What U.S. Workers Can Do
Outsourcing's effects are not all positive, though. Workers in the United States who are displaced by overseas IT outsourcing can have a negative effect on both the overall economy and the high-tech sector, because their earnings potential is decreased by both their unemployment and a tightened job market.
Companies that shift "basic" IT tasks overseas, though, are in effectsending signals to unemployed U.S. high-tech workers to upgrade their skillsto compete against this latest threat to their jobs.
"If [workers] refocus their skill sets on higher systems design and analysis,on the type of technology that's going to be the next big success in themarketplace, then they will get in at the early stage of a winningtechnology and presumably increase their lifetime earnings as well asincrease the U.S. economic value," Efstathiou said.