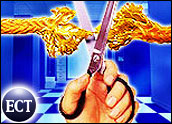 Yahoo is poised to end its long-time relationship with search-results provider Google, setting the stage for the two leaders in paid and traditional search to begin competing more fiercely for market dominance.
The breakup has been expected for a while, as Google has become more of an all-around threat to Yahoo by offering paid search listings and news and shopping searches in addition to its algorithmic search engine.
Yahoo first made it clear that it intended to supplant Google with its own in-house search technology when it went on an expensive acquisition spree last year, buying Inktomi for US$235 million and Overture for $1.4 billion.
The Star: Search
Neither company responded immediately to requests for comment, and up to three months may pass before the break is made official, but published reports say Yahoo has been preparing its marketing clients for the switchover.
Meanwhile, Yahoo CEO Terry Semel said his company has only scratched the surface of how it can deploy search technology across its online media landscape to generate revenue and traffic.
Speaking at a conference sponsored by Smith Barney and Citigroup, Semel said Yahoo recognized the increasing importance of search early enough to make solid gains in the marketplace.
"We woke up in time, and we saw search ever-present in the entire network," he said. "We saw an enormous opportunity to be the other major player in search."
Keeping Eyeballs Entranced
Piper Jaffray analyst Safa Rashtchy told the E-Commerce Times that Yahoo has many internal opportunities for search, which made the acquisitions of last year a smart move.
"If they keep users on their network, they're much more likely to become premium members, which is really one of the engines driving the business since Semel took over," he said. "Combine that with the advertising and marketing opportunities they see, and search has enormous potential for them. They obviously thought it made the most sense to cut out the middleman."
Indeed, Yahoo intends to use its own search technology to prevent users from straying from its various content areas to conduct a search, thereby keeping users on its site longer and making ad space on the Yahoo portal more valuable to advertisers.
The company unveiled one version of this new embedded search approach during the 2003 holidays, creating a shopping-comparison program that enabled shoppers to find products through a variety of different options, from price-based searches to side-by-side product comparisons.
IP Oh
Google likely will take a financial hit from the loss of the Yahoo account, but it has inked several other high-profile deals, including an extended pact with AOL, to help take up the slack.
Word also came Monday that Google has moved a step closer to its much-ballyhooed initial public offering.
The company reportedly has hired Morgan Stanley and Goldman Sachs to lead the underwriting of what is expected to be a $3 billion to $4 billion IPO sometime during the first half of this year. The choice puts Google in good company: Morgan Stanley led the 1995 IPO of Netscape Communications, which was widely credited with paving the way for the Internet boom years.
No Letup
Indeed, 2004 should be a year for the ages in the search market. In addition to the Google IPO, the rapid consolidation and market upheaval that marked 2003 should quiet down, Yankee Group analyst Rob Lancaster told the E-Commerce Times.
"There's still a lot of growth and changing to take place, but it won't be on the same scale as what we saw over the past 18 months or so," he said. "The players and the pieces are in place now, and it's going to be about figuring out the best ways to make search work going forward."