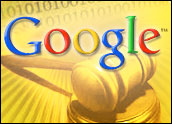 In a legal move that ultimately could affect the size of search engines' revenue stream, Google has asked a court to clarify whether or not its keyword-based advertising program is infringing on company trademarks.
Google filed the request to be heard in U.S. District Court in San Jose, California, following complaints from American Blind & Wallpaper Factory that Google was using copyrighted words and phrases to send users to rival retailers' Web sites.
Analysts said Google appears to be seeking clarification of the issue in order to avoid a messy legal battle that could involve hundreds of companies and cast a cloud over the company's main source of revenue. According to published reports, Google is preparing to launch one of the most highly anticipated IPOs in recent years.
Revenue River
Keyword searches have become a cornerstone of profitability for several leading search engines as they seek ways to monetize the heavy volume of user traffic on their sites.
In Google's program, advertisers buy the right to have their links listed in highly visible locations on the search results page, depending on which keywords a user types into the Google search box. For instance, a search on the word "sneakers" returns sponsored links for Amazon.com's apparel site, Shoebuy.com and FootAction.com.
The complaints by American Blind & Wallpaper, which have come in the form of letters to Google but have not yet resulted in formal legal action, are that certain keywords, including phrases containing the words "American" and "blind" or "blinds," are trademarks of the Michigan-based company.
Google reportedly has agreed to curtail use of known copyrighted phrases belonging to American Blind, but the company is seeking clarification from the court on whether using variations of those phrases in keyword searches also represents a copyright infringement.
Key Words
Google no doubt is hoping courts will allow liberal use of phrases that have common meanings outside of their copyrighted uses. However, even if further limitations are placed on keywords, the business of selling keyword-based ads will not evaporate, according to Forrester Research analyst Charlene Li.
"It might add another layer of complexity and additional review that would have to be done," she told the E-Commerce Times. "It would complicate matters, but it wouldn't make it impossible to keep using keywords."
In such a scenario, Google might have a smaller pool of phrases to sell to advertisers, which could crimp revenue generation at first.
"It would definitely require them to come up with ways to work around it, but keyword searches are so important both for Google and its customers that it will find a way," Li said. "The bidding over the best keywords is very vigorous, and that is likely to continue."
Over There
Google could not be reached immediately for comment. The company has had legal run-ins over copyright issues in the past, including a suit filed in August by French retailer Louis Vuitton.
In that situation, Google earlier had been ordered to pay a fine in France and was barred from future use of keywords that are corporate trademarks.