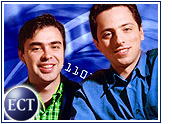 Executives at search engine powerhouse Google have been meeting with investment bankers in recent weeks, fueling widespread speculation that the company will stage an initial public offering soon, possibly in the first quarter of 2004.
Google has long been rumored to be the next big high-tech IPO. But with stock markets only recently recovering to a point at which a strong offering could be staged by even the strongest firm, IPO talk has been muted.
Google's low-key roadshow quickly changed that, with numerous published reports in the United Kingdom and the United States suggesting the companyis ramping up for an early 2004 IPO and is exploring numerous options, from traditional underwriting to a more unusual, direct-to-the-public auction model.
Not So Fast
Google could not immediately be reached for comment. But during a search-engine conference earlier this week, cofounder Sergey Brin indicated the company had not yet set a target date for going public.
Because Google is profitable, it does not need the IPO to raise cash, although Brin acknowledged that being publicly traded and disclosing revenue and earnings details might help solidify Google's reputation within the industry. On the other hand, he said, going public could be a distraction for management that could hamper their ability to focus on the company's strategic initiatives.
"There's a good chance eventually we're going to do it," Brin said at the conference.
Open Arms
While some investors would be immediately drawn to a Google IPO because of the company's rapid rise to the top of the search industry, which itself is a hotspot within the technology sector, analysts say the true test would come when Google opened its books.
"There are a couple of IPOs that would get people excited, and Google is one of them," Morningstar.com stock analyst George Nichols told the E-Commerce Times. "But as always, a company looks good when it can say it's profitable and growing and that's it. Once people start to have financials to dig through, that enthusiasm could either go higher or be dampened."
Although Google has used its privately held status to keep its results close to the vest, its rapid expansion, hiring of new workers and recent acquisitions likely indicate a healthy balance sheet, Nichols added.
Out with the Old
Apart from timing, speculation also is focusing on Google's options. While a traditional IPO no doubt would give the company the a big opening-day pop, Google may be eager to avoid the public perception that such offerings disproportionately favor insiders and underwriters.
Last summer, a class-action lawsuit involving thousands of shareholders and more than 300 tech-era public offerings — including Webvan, Priceline, Red Hat and MarketWatch.com — was tentatively settled in a deal that could result in shareholders receiving up to US$1 billion.
Long Time Coming
If Google does go public, it likely would become the first truly blockbuster high-tech IPO in nearly three years. That is not to say the IPO market has been bone dry since the dot-com bubble burst. Netflix went public in May 2002, and Overstock.com held a public auction-style IPO about a month later. Both offerings were subdued affairs, however, with relatively little movement in stock prices after the IPO.
The closest the Internet world has come to an offering that stirred widespread investor excitement was PayPal's strong offering in February 2002. The company's shares rose more than 40 percent on the heels of its debut, and before long, PayPal announced it would be bought by eBay, ending its brief run as a public firm.
Along with Google, controversial online travel site Orbitz has been seen as a likely first-wave IPO once capital markets recover enough to be receptive to such offerings. Orbitz got as far as registering with the U.S.Securities and Exchange Commission more than a year ago, announcing its intention to go public in a move valued at about $125 million, but it has not yet consummated the deal.