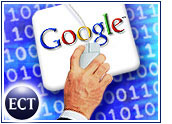 No longer a startup with a bright future, Google has become the search engine to beat — a technologically superior company that has everyone in the industry looking over their shoulders, protecting their flanks and girding for battle.
Google's Goliath image is quite a change from its earlier role as the rising star of the Internet world, one it enjoyed for just a short time before its rapid ascension into the dominant ranks of the search industry. Some industry watchdogs, such as GoogleWatch.org, now have raised red flags about the company's level of influence, saying its PageRank technology is the Web's most important arbiter of which sites are visited frequently and which are relegated to the Internet dust heap.
However, for the most part, even those who say Google is likely to dominate the search marketplace for the foreseeable future believe the company never will be the same sort of monopolistic power as Microsoft. What differentiates Google from the oft-vilified software giant?
Sooner or Later
For starters, Google was not first on the search engine scene. That distinction goes to several other companies, most of which have long since been subsumed by larger players in the space. In fact, Google did not come into being until 1997. Its relatively late start gave it a better technological base to build on, but also put it well behind the pack heading into the first turn.
By contrast, some say Microsoft dominated the desktop operating system space in no small part because it helped invent that marketplace.
Also, unlike Microsoft, much of Google's early growth occurred with little fanfare or competitive force. Indeed, its relatively low profile might have helped it move into the top tier of search engine companies without causing much commotion, enabling it to sign partnerships without being perceived as a threat. Google's partners currently include Yahoo, Amazon and Mapquest, although Yahoo's plan to buy Overture for US$1.6 billion soon might mark the end of its friendship with Google.
Organic Growth
Even now, although Google has launched its first national advertising campaign and bought Applied Semantics in a move many analysts say boosts its already impressive technological arsenal, it has grown largely organically, Google vice president Omid Kordestani told the E-Commerce Times.
"We started from day one and remain focused on delivering the best search product to consumers and strong results to our partners and clients," Kordestani said. "This is still a very competitive environment where consumers have a lot of choices. Our aim is to make our search engine the number one choice."
Choice and Partnerships
In fact, the amount of choice in the marketplace might mark the biggest difference between Google and Microsoft. Even though consumers who conduct searches on Yahoo actually are using the Google engine, thanks to a licensing deal between Yahoo and Google, there are still myriad other choices. Some of them, such as Microsoft itself, are even in the 800-pound gorilla category.
"The nature of search is that each company has a network of partners and customers that almost certainly overlap," Nielsen//NetRatings senior analyst Lisa Strand told the E-Commerce Times. "And consumers are still very likely to use more than one search engine."
Consumers' fickle nature may be the factor that keeps the playing field level in the end. "The traffic data suggests people are using more than one search engine, sometimes even in the same search," Strand said. "That means the smart money is going to be spread around, and that's going to keep the industry from being dominated by any single player."
Wandering Heart
Still, everyone acknowledges that the search-engine market is still in its relative infancy and that almost anything can happen. The recent spate of merger activity has cooled, largely because there are few small, independent companies left standing.
Yankee Group analyst Rob Lancaster told the E-Commerce Times that although Overture was first to spot the potential of keyword searches and paid listings, other competitors followed suit quickly enough to keep any single search engine from gaining a decisive edge.
"The writing was on the wall early on that banner ads weren't going to carry search engines very far," he said. "Those that moved quickly enough are surviving, and those that didn't are being bought up at bargain prices."
All of this activity indicates that the search engine space is still a vibrant and dynamic one, with several strong players competing for market share and mindshare. Although Google is dominant, it is not, as some critics charge, in total control of the Internet, nor is it stifling innovation in any way. If anything, Google's rise has pushed search engine technology forward by leaps and bounds, spurring competition. That is not the sign of a company that should be hated or feared; indeed, while it may be wise to keep an eye on Google, it also seems logical to cheer its progress.