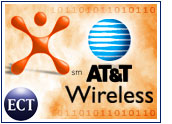 Cingular Wireless, a joint venture of SBC Communications and BellSouth, has inked an agreement to acquire AT&T Wireless.
Under terms of the agreement, which was approved by the boards of directors at both companies, shareholders of AT&T Wireless will receive US$15 per common share, which translates to a total of approximately $41 billion. The acquisition still must be approved by AT&T Wireless shareholders and federal regulatory authorities, but both companies expect the deal should be completed as early as the end of this year.
"This is big," AT&T Wireless spokesperson Peter Rowe told the E-Commerce Times. "It's the largest cash transaction in U.S. history. The scope of the deal is just enormous, and it'll be felt throughout the industry."
Major Player
With the acquisition, the combined company would have 46 million customers and coverage in 97 of the top 100 markets. Combined annual revenues for 2003 would have exceeded $32 billion, according to Cingular.
Those numbers refrain from showing Cingular had better positioning in the market than AT&T Wireless. The latter company reported a fourth-quarter loss and noted that its operating income in January fell more than 20 percent from the year earlier.
However, Cingular is not exactly saving a sinking ship, Rowe noted. "From our perspective, what we've done here over the last four years is to build a business with tremendous value," he said. "We've built a franchise that was seen as attractive to a number of competitors."
The combined company already has begun plotting ways to save money through the acquisition. Cingular announced that it expects to achieve significant operating efficiencies through the acquisition by consolidating networks, distribution, billing, procurement, marketing, advertising and other functions.
The company expects to generate more than $1 billion in operating expense and capital expenditure savings in 2006, and more than $2 billion starting in 2007.
Tough Battle
In January, AT&T Wireless confirmed reports that it had received interest from a number of companies seeking to buy the nation's third largest provider of cell phone service.
Potential buyers reportedly included Cingular Wireless, Nextel Communications, NTT DoCoMo and British giant Vodafone, which is a part owner of Verizon Wireless.
Vodaphone in particular was watched closely by analysts who believed the company was eager to establish its brand in the United States.
Combo Deal
In a statement, Cingular CEO Stan Sigman emphasized the combination of the companies will produce growth not just for Cingular, but for the industry as a whole.
"Wireless communications is one of the most significant growth drivers in the telecommunications industry," he said, "and with the acquisition of AT&T Wireless, we believe no other company will be better positioned than Cingular to grow with the market's continued expansion."
Rowe noted that the acquisition likely will be emulated by other companies in the arena. "You're going to start seeing consolidation, and it'll begin happening soon," he said.
Analysts also predict the Cingular deal could spark other mergers in the U.S. mobile industry, where a number of players are battling fiercely for dominance.
Standard Operation
Another effect of the acquisition may be the triumph of wireless standard GSM over competing wireless standards CDMA and TDMA. Although GSM is used widely in Europe, the United States has seen competition of the standards and poor interoperation.
Chris Conley, a professor at the Illinois Institute of Technology, told the E-Commerce Times that mobile technology carriers currently associate their technology with features that are relevant to users. However, with the combination of Cingular and AT&T Wireless, the ensuing growth of GSM could make standards a non-issue.
"In the end, we won't care," Conley said. "It's like cars. We've long since passed significant differences in technology platforms and have moved to brand and product type. We should see the same kind of thing happening with wireless soon."