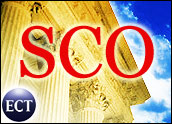 As part of its legal wrangling with The SCO Group, IBM has filed a motion for summary judgment in an attempt to remove copyright claims from the multibillion-dollar lawsuit.
In its request, Big Blue cited a lack of evidence from SCO that would prove wrongdoing on IBM's part. The copyright claims in question are considered a major component of SCO's case.
The decision is in the hands of the presiding judge in U.S. District Court in Salt Lake City.
What's the Beef?
SCO first filed suit against IBM in early 2003, claiming Big Blue had used proprietary Unix code owned by SCO when it created its version of Linux. In its initial filing, SCO accused IBM of breach of contract, violation of trade secrets and unfair competition.
In February 2004, SCO added a copyright infringement claim to the lawsuit, dropped the trade secrets claim, and announced it had been prevented from including copyright claims in its original suit due to unresolved issues with Novell.
Although those issues continue to exist, many observers have questioned SCO's refusal to present its evidence and enable the case to move forward. One reason may be that the sooner SCO shows evidence, the more power it will lose.
As Yankee Group analyst Dana Gardner told the E-Commerce Times: "IBM is saying, basically, 'Show us the error of our ways.' But SCO believes that it will lose leverage in the suit, and that any details that are released will allow for the code to be fixed."
Settle Down
Although some analysts believe SCO might have begun the suit hoping for a settlement, it seems IBM's strong actions are centered on getting the case thrown out of court rather than settling.
"IBM disputing that SCO has a case limits the possibilities for settlement," Gartner research director George Weiss said in an interview with the E-Commerce Times. "At some point, SCO has to prove its case so there can be some kind of legal judgment."
As the suit progresses in coming months, both sides may have the opportunity to hurl even tougher words at each other. "There are a number of paths this could take," Weiss said. "This whole suit is like a tree with many, many branches."
SCO currently is being forced to talk tough on two fronts. While standing up to IBM, the company also is suing Novell for slander. Novell claims to own the copyright to the Unix source code and has filed motions in federal court to dismiss SCO's Unix claims.
Technology Hold 'Em
Gardner said IBM's new request is just another step in the seemingly endless back-and-forth tussle that has become the norm in this lawsuit.
SCO's refusal to present evidence, however, could force the suit to move in one company's favor at last. If the court issues a declaratory judgment in favor of IBM, the case could be over in a matter of months, because the copyright claims form the backbone of SCO's case.
"It makes sense for IBM to make this move," Gardner noted. "As an observer, I would expect that if SCO has a strong case, they'd present it to someone, even if it's just the judge. It's very curious, SCO not coming forward."
It is possible SCO will not remain quiet for long. In April, IBM turned over versions of its AIX and Dynix Unix source code to SCO in compliance with the lawsuit. Big Blue handed over internal documents and executive memos as well. When SCO attorneys have sorted through all of that evidence, the lawsuit with many branches could sprout even more.
SCO did not respond immediately to requests for comment.