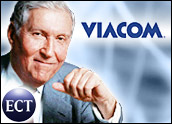 When Mel Karmazin on Tuesday announced that he had resigned his position as president of Viacom, the media giant responded by appointing Tom Freston and Leslie Moonves as co-presidents and co-chief operating officers, effective immediately. The two new appointees were Viacom's two most influential division heads: Freston was CEO of MTV Networks, and Moonves was CEO of CBS Television.
The boardroom shuffle comes after years of public feuding between Karmazin and Sumner Redstone, Viacom's chief executive. Four years ago, Viacom merged with CBS, which at the time was helmed by Karmazin. Since the merger, the pair have been at odds, each with a different vision of how to run the company.
What do the recent moves mean for Viacom — and could Freston and Moonves reprise Karmazin and Redstone's rivalry?
Share and Share Alike
In their new roles, Freston and Moonves will jointly oversee all of the operations of Viacom, directed by Redstone. They each will have properties to look after, with Freston directing the operations of Showtime, Simon & Schuster and the motion picture divisions of Paramount. Moonves will be responsible for Paramount TV, Infinity Broadcasting and Viacom Outdoor.
However, with the introduction of a shared power structure, the company could be fostering the same kind of environment it had with Redstone and Karmazin, according to John Challenger, CEO of outplacement firm Challenger, Gray & Christmas.
"Co-presidents don't work," Challenger said in an interview with the E-Commerce Times. "It creates a split culture, where you have two powerful people and you can't afford to lose either of them."
Echo Effect
Viacom suffered from a split culture during the Karmazin era, Challenger noted, saying that is one reason why he foresees even more shakeups at the company in the next few months.
"With a split organization, you have the sense that you have to join sides in a war," he said. "When one side wins, often the people who have been on the other team leave or get pushed aside."
Challenger predicted that Karmazin supporters of every rank will not remain at the company for long, and that internal morale will suffer in coming months.
"Conflicts that get played out at the top of the company are often echoed throughout the company," he said.
Succession Questions
Although it remains to be seen whether Freston and Moonves can split power with equanimity, Yankee Group senior research analyst Michael Goodman noted that, for now, the switch has removed longstanding contention in Viacom's upper ranks.
As he told the E-Commerce Times, "It's no secret that the relationship between Redstone and Karmazin has been strained."
He added that a question of succession still hangs in the air; with Freston and Moonves moving up, the spots they have vacated will be difficult to fill. That will be a major challenge for the new co-presidents.
"Moonves, in particular, has quite a track record at CBS," Goodman said. "Who's going to replace these individuals? It's not exactly easy to find a successful top studio executive. Just ask ABC."
Where's He Going?
For his part, Karmazin has been noted for his bottom-line orientation, and a possibility exists that he could be tapped to take the job of Walt Disney chief executive.
The contract of the current chief, Michael Eisner, expires in two years.
In response to speculation, Walt Disney chairman George Mitchell has denied there will be a major management shift, even though it has been reported that shareholders Roy Disney and Stanley Gold have called for the board to consider Karmazin.
Eyes on Viacom
In terms of Viacom's future, Goodman said the next six months will be crucial. During that period, Freston's and Moonves' plans should start to be unveiled, and long-term strategies will be put into place.
"This shift won't have a huge impact on the day-to-day, because CEOs set a strategic course, and that's a long-term issue," he noted.
For Viacom to truly bounce back from the power struggles experienced during the Redstone and Karmazin era, Goodman said the new co-presidents will have to establish a solid vision and prove they can work together.
Challenger remains pessimistic about the future strength of Viacom's shared power structure. "With the company prolonging this split culture," he said, "it's possible that the company is setting itself up for trouble."