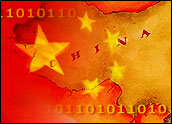 The Chinese government is establishing a committee that will review online games and censor them if it finds questionable content. The review will take place before the games are made available, so subscriptions will never be sold if the committee does not render approval.
Objectionable material, according to the country's Ministry of Culture, includes sex and violence as well as misrepresentations of China. In the past, Chinese authorities have questioned whether some games have damaged the psychological health of the country's youth.
There are more than 140 online games in the Chinese market at present, and more than 80 percent of them are foreign.
Navigating the Censor Ship
The move to create an official body to censor online games comes after two major games were banned in China. A Swedish game, Hearts of Iron, was yanked recently because it portrayed Chinese-held areas like Tibet and Manchuria as independent nations.
Meanwhile, the country in March blocked a Norwegian game, Project IG12: Covert Strike, because part of the game is set in China and features a mercenary who shoots at the country's soldiers. In banning Project IG12, China's State Press and Publication Administration noted that the game violated China's national dignity and interests.
Both bans came after widespread shutdowns of cybercafes in the country. As of the beginning of May, more than 8,600 such cafes had been shuttered. Minister of Culture Sun Jiazheng has been quoted as saying, "Internet cafe management has an important bearing on the healthy growing of juveniles."
Under the Microscope
Given its recent efforts to rein in games and Internet cafes, it is not surprising that China would form a committee to review online games, according to Jason Della Rocca, program director for the International Game Developers Association.
As he told the E-Commerce Times, "China has been very intent on trying to control all forms of pop culture, from books and movies to the Internet."
But in trying to block online games, the country may be putting a dam where a river had begun to flow. Della Rocca noted that most game developers are hesitant to distribute regular PC games in China because the country has barely any copyright laws. Games are often duplicated and sold for as little as US$1 per copy on the street.
Because of this problem, however, the Chinese online game market, which relies on a subscription model rather than a buy-once model, has been booming. There also seems to be no shortage of buyers.
"The appetite is there, and it's very high," Della Rocca said. "That's why some online game companies have thought about putting their focus there, because it's the only way to make money on games in that country."
Major Marketplace
Companies, gaming and otherwise, that hope to tap into Chinese interests are keenly watched by investors, according to Andrew Chetham, a senior analyst in Gartner's Hong Kong office.
"Anything that seems to work in China is jumped on," Chetham told the E-Commerce Times. "The market is just so large and hungry for technology. It seems an ideal place to make a profit, if you can crack it."
But there is the rub. Any company that wants to capitalize on demand in China must navigate government regulations, disregard for intellectual property and increased competition.
The result, Chetham said, is that only the strong and the large survive to profit.
See You Later?
For many non-Chinese game developers, it appears that simply staying away from China and concentrating on other markets might be the best tactic.
"In many ways, China has been somewhat isolated from the rest of the gaming industry," Della Rocca noted. "Only recently have there even been attempts to enter the Chinese market."
He added that although it is difficult to predict the effect of the latest announcement, the move ultimately calls into question the viability of the Chinese market for game developers and distributors.
"It's unfortunate," he said. "The game industry and the IGDA work hard to maintain creative freedom for game developers." Clearly, China's new policy has thrown a wrench into those plans, and the country's role as a future marketplace for online games appears cloudy.