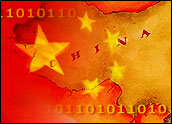 In a move that could threaten a key source of recent and future growth, Intel has said it will be forced to stop shipping some of its Centrino mobile computing processors to China because it cannot comply with that country's government-mandated standards.
Intel told customers in meetings this week that it will be unable to meet China's June 1st deadline by which all wireless computing chipsets are supposed to be compatible with government security standards. Rather than modify its products, Intel will curtail shipments to the country.
Santa Clara, California-based Intel said it will continue to sell the Pentium M brand of chips for notebook computers in China, but it will strip out the accompanying radio chipset that permits wireless Internet access through the WiFi standard.
Pressure Point
Intel did not close the door on developing a compatible chip but acknowledged it will not make the June 1st deadline.
Observers said the announcement may have been made in part to pressure China to grant an extension or modify its rules to allow Intel, which has been a major investor in the country's technology sector — it recently began work on a US$375 million chip-building plant there — to keep shipping its Centrino family of products.
Already, the U.S. government has urged China to open up its standards to more alternatives, with several high-ranking U.S. officials, including Secretary of State Colin Powell and Commerce Secretary Donald Evans, signing a letter calling for a review of the issue.
Too Fast
The heart of the debate is that China has established its own set of security standards for wireless Web access, called WAPI, or wireless authentication and privacy infrastructure. In doing so, the country has set aside the global security standard tacked onto the 802.11 WiFi protocol.
Intel has said retrofitting its technology to the new standard would be difficult because China's standard requires more processor power and memory, draining performance from other areas.
Intel spokesperson Chuck Molloy told the E-Commerce Times that although the company could build its chips to meet the specs, performance of the overall Centrino package would be harmed.
"Right now, we can't do both," Molloy said. He added that Intel has questions about the long-term viability of a separate Chinese standard and about whether China eventually will have to drop the requirements to enable Chinese companies to interact with their international counterparts.
Walking a Tightrope
Contrary to what the latest announcement might seem to indicate, China is extremely important to Intel and other companies. In a recent report on semiconductor growth, research firm IDC said China is poised to account for more than 15 percent of worldwide PC sales within four years.
In January, Chinese wireless communications companies doled out more than $2 billion worth of orders and contracts to firms including Motorola, Lucent, Juniper Networks and, yes, Intel, a move that seemed to signal improving technology relations between the United States and China.
IDC analyst Shane Rau told the E-Commerce Times that China has held tough on the wireless standard despite pressure to be more flexible — and it has come to recognize it is in a strong position because of its potential economic power.
"American companies see the Chinese market as the potential source for years or even a generation's worth of strong growth," Rau said. "But companies are still figuring out how to work with the Chinese government. It's a learning process on both sides."