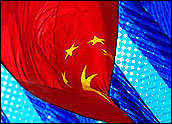 Leaving little doubt about its commitment to solidify its position in the Asian marketplace, Intel has said it will start work early next year on a new testing and assembly plant in mainland China.
The plant, to be located in Chengdu, will employ 675 people at first, Intel said, and could be operational by the end of 2005. Initial construction costs are estimated at US$200 million, while expansion plans call for another $175 million to be sunk into the plant.
The facility, which will be set up as a finishing plant for flash memory and other products, will be the second fabrication plant in China for Intel, which also has teamed with Chinese officials to set up R&D labs in various parts of the country.
The Payoff
Intel said its decision to build in China stemmed in part from increased demand in China and from what it called a well-trained workforce in the region. Most of Intel's actual fabrication work will continue to be done at existing plants in the United States, Ireland and elsewhere.
"It's hard to estimate what value having an actual, on-the-ground presence in China will have as the economy starts to really emerge onto the world stage," IDC analyst Shane Rau told the E-Commerce Times. "For Intel, this type of move buys them enormous goodwill from the Chinese government and gives their brand name a leg up with the local companies that China wants to see produce more of its electronics."
Because China's communist government maintains strong controls on the economy, having it as an ally is essential, Rau added. Meanwhile, Intel must face competition not only from U.S.-based rivals, such as AMD, but also from Japanese chipmakers. "The potential of the Chinese economy is not lost on anybody," Rau added.
Pretty Please
It was not immediately clear what incentives Intel received to build the facility, although its location in a largely rural section of the western area of the Chinese mainland — an area that government officials are eager to help develop — suggests Intel worked closely with government officials in choosing a location.
"We look forward to cooperating with the People's Municipal Government of Chengdu to build a state-of-the-art assembly and testing facility in their city," said Intel CEO Craig Barrett. "The Chengdu facility will join Intel's already existing worldwide network of semiconductor factories and represents our support of China's 'Go West' initiative."
The move no doubt will stir the pot over an existing dispute between Intel and the U.S. Internal Revenue Service, which claims the chipmaker owes some $600 million in back taxes. Intel has said it is entitled to export-tax credit on chips that it fabricates in the United States and then ships overseas to be finished, tested and packaged for sale. The IRS maintains that the after-fabrication work constitutes part of the manufacturing process, wiping out Intel's right to the credit.