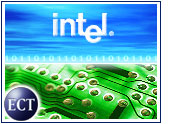 Leading chipmaker and technology bellwether Intel has announced business is improving ahead of schedule, putting it on track to post strong quarterly results that could surpass earlier expectations.
"Intel's business overall is performing better than expected," CFO Andy Bryant said in a conference call. The company's computer architecture business is driving growth, he said, with microprocessors, chipsets and motherboards also "unexpectedly strong across all geographic areas."
Intel raised its revenue range forecast for the quarter to between US$7.3 billion and $7.8 billion, up from its original prediction of $6.9 billion to $7.5 billion. Bryant said if the quarter comes in at the midpoint of that range, it will mark an 11 percent increase from the second quarter and 16 percent growth compared with the third quarter of 2002.
Putting It in Perspective
Still, before optimism sparked by the announcement had much of a chance to take hold, Intel executives sought to put the good news in perspective.Intel CEO Craig Barrett, in Taiwan to oversee the opening of a joint research-and-development center aimed at serving the booming Asian market, said pockets of strength do not equal a full rebound.
"It's too early to suggest a total turnaround," Barrett said.
Likewise, IDC analyst Shane Rau said Intel managed a stronger-than-expected second quarter because of some strong products, rather than an overall rising tide.
Rau told the E-Commerce Times that Intel is typically conservative in its estimates and must have seen something fairly significant to prompt the mid-quarter announcement.
"If you step back, you see PC sales picking up in different parts of the world and strong reports about back-to-school technology sales," he said. "That might have Intel's customers starting to think about being ready for a more significant turnaround."
All Eyes
Because their products are building blocks for high-technology equipment, chipmakers Intel and AMD are seen as key bellwethers of the tech economy. However, CFO Bryant said Intel is not ready to stick its neck out and declare that IT spending is on the road to recovery.
He noted that some of Intel's business lines, particularly chips for communications devices, remain weak, and the company is in no danger of pushing the limits of its capacity to make enough chips to satisfy demand.
"We'll probably be the last to call the recovery," Bryant said. "We probably won't even say it until it's out there and everybody's already writing about it."
Good Omen Anyway?
Even so, some industry observers still see the news as a harbinger of a rising tide that will lift all boats, particularly those at the front end of the technology industry.
For example, Soundview Technology Group analyst Hans Mosesmann said that given the nature of Intel's announcement, number-two chipmaker AMD also is likely to see revenue and earnings improve.
"They mentioned growth across sectors and regions, which probably means the cycle is starting to turn back in favor of the chipmakers again," Mosesmann told the E-Commerce Times. "The last thing anyone wants is to get caught short of inventory, so the computer companies may hedge their bets a bit and do even more spending as a result."