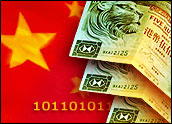 The Open Source Development Labs (OSDL) has announced its first Chinese member organization: Beijing Co-Create Open Source Software Company, Ltd., which plans to work on the Linux kernel and promote Chinese adoption of Linux on the desktop.
Beijing Co-Create is the second Far East organization to join OSDL this week. On Wednesday, NEC Soft, a division of Japan's NEC Corporation, also joined the group. The OSDL is a nonprofit organization dedicated to developing and promoting Linux worldwide. NEC Soft is expected to participate in OSDL's Data Center Linux and Carrier Grade Linux working group initiatives.
Worldwide Interest
OSDL CEO Stuart Cohen told the E-Commerce Times that Beijing Co-Create's decision to join the OSDL is not surprising because there is tremendous interest in Linux worldwide.
"The value proposition is so strong to begin with," he said. "[Companies] may have Linux deployed on their servers, and in turn it increases interest in Linux in the desktop and server market. And it's because people all over are looking for business solutions."
Linux industry analyst Bill Claybrook agreed that Linux is a good fit for many countries, particularly emerging markets like China, South Africa and Brazil.
"Linux is a less expensive alternative and so is very attractive in countries where the average earnings per person is low," Claybrook told the E-Commerce Times. "With companies like Microsoft that expect to charge for every license, people [in these regions] make copies and pirate it, whereas Linux has fairly unrestricted distribution rights and causes fewer problems."
Linux in China
Cohen said one reason why Chinese companies tend to favor Linux and other open-source products is that the Chinese government wants more software to be developed in China, thereby creating jobs and improving the software import-export ratio. Also, China, like many countries, is more interested in PC and market growth than anything else.
"PC penetration is still very low in China. Over the next 10 years, many Chinese people will be getting the first PC in their life, and the [Chinese] government has a vested interest in having these PCs loaded with software developed in China," Cohen said.
Thanks to the Chinese government's support for open source, he added, "adoption could happen more rapidly than in countries like the U.S., where so many people already have their PCs, PDAs, BlackBerries, et cetera."
Characters and Standards
In another example of homegrown Linux adoption, a Hong Kong company called Culturecom Holdings introduced a new CPU known as the V-Dragon in July 2003. According to a July 17, 2003, press release, the V-Dragon has what the company labeled a "V-Dragon Midori Linux embedded architecture," including an embedded Chinese character-generating engine and integration with Midori Linux. IBM is listed as a codeveloper of the V-Dragon chip.
Although Claybrook said he is not directly familiar with the V-Dragon chip, he did say the chip's capabilities are significant for this region.
"One of the really important things you have to do when developing a new OS is to make it so that it can support different character sets," he noted. "Linux standards include incorporating these different character sets within the platform. It's boring work, but you have to make [it so] that people speaking other languages can hit whatever key and input the right character."
Near-Term Impact Questionable
Claybrook added that in terms of its user base, Linux is a big hit; however, he is not sure how those numbers will translate into revenue.
"The Chinese are looking to buy hardware that's as inexpensive as possible with the lowest margin," he said. "It's questionable whether hardware vendors like Dell and IBM would enter that market because there may not be enough money to warrant going in.
"In China, they are not going to buy Red Hat Enterprise Linux at $2,500 a year."
Claybrook went on to say that despite these factors, Linux could have a hefty financial impact on Chinese business.
"The more people that get involved with Linux, the better for it is for Linux," he said. "One of the great things about Linux boosters [is that] they are excited about the product. They're like environmentalists, out to save the world."