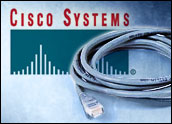 Cisco Systems introduced new products Tuesday that advance the company's so-called "Self-Defending Network" strategy. In accordance with that strategy, these new hardware and software offerings are designed to improve enterprises' ability to protect and defend their networks at all points.
According to the company, its portfolio of new products works in an autonomic fashion to identify threats, isolate infected endpoints and reconfigure the network in response to intrusions. The products also work proactively to prevent attacks and provide more resilience and flexibility.
Yankee Group senior analyst Eric Ogren told the E-Commerce Times that he likes Cisco's concept of the self-defending network. He said that, if his clients had been asked to wish for one thing from Cisco, it would have been that.
Zeus Kerravala, vice president for e-networks and broadband at The Yankee Group, seemed to agree. "This makes a lot of sense because Cisco products touch every point of the enterprise network," he told the E-Commerce Times. "Cisco's [strategy] offers a much more unified security vision for their customers."
The New Array
Cisco's new offerings include the latest release of its IOS software, the operating system that powers Cisco network devices, including routers, switches, gateways, firewalls and wireless hardware. The new version of IOS, IOS Software Release 12.3T, has increased threat defense capabilities, such as an IP Source Tracker that enables users to pinpoint entry points where denial-of-service (DoS) attacks could occur.
In addition, the latest iteration of IOS includes a new command-line interface (CLI) that lets customers configure access for other users more precisely and helps minimize attacks resulting from misconfigurations.
In the hardware realm, Cisco's new 7301 Router extends VPN support by supporting 370 megabits-per-second VPN throughput and high-performance stateful firewall capabilities in a 1U form factor. The company also introduced its VPN 3020 Concentrator, an edge device used to terminate virtual private network (VPN) sessions. This concentrator provides integrated IPSec and SSL remote VPN access and supports several encryption standards.
Ogren said he is impressed by the latest products' ability to merge IP/VPN and the newer, more secure SSL/VPN. Because most on-the-road users need only a couple of applications, most notably e-mail, SSL/VPN means those users can access those applications without having to purchase new hardware to do so.
The Vanishing Perimeter
Kerravala said Cisco's direction highlights the need for enterprise security to be holistic and integrated from end to end. The company's moves also confirm the need for enterprises to focus on all parts of their network, because a network is only as strong as its weakest link.
"The days of defining the access points of a network are over," Kerravala said. "The edge of the enterprise has eroded with the increase in extranet activity" in such realms as Web services and file sharing between companies. "The perimeter of the enterprise is really vanishing, and it is crucial to maintain the right policies. If one server does not implement a consistent set of policies, the system can be easily infected by end users.
"As an example, it would not be a good thing to have a CEO using a public kiosk at an airport to view some sensitive document, who then runs to catch a plane without signing out of the network first," Kerravala added. "The network needs to be able to recognize what access to give to certain people so that not just anybody can access certain files."
Cisco on Target
Kerravala said he believes Cisco generally has been on target in the security arena, though it was a little late in introducing its SSL VPN product. According to him, Cisco may not hit the market first, but it generally does so at the right time and defines the market's direction.
"Last year, we did a survey asking clients what their preferred vendor was in the SSL/VPN space," he noted. "Cisco was tops, even though at that point it did not have a product available."
For his part, Ogren said Cisco needs to do more in the autonomous space, but he said he believes the company's mention of autonomic functionality in its latest product offering means it soon will announce products with such capabilities. For example, a network will automatically raise flags when a desktop machine starts speaking in SQL when it has not before.
"It will know that the SQL Slammer virus is causing it, and it won't have to call IT. It will just [fix the problem]," Ogren said.