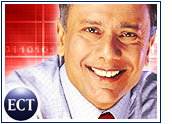 For years, Juniper Networks has been known as much for its desire to trump chief competitor Cisco as for its technology. With the company's recent acquisition of NetScreen Technologies, Juniper seems to have bought some clout that could make a difference in that fight. The US$3.4 billion NetScreen deal brings Juniper into the security and low-end corporate sectors, expanding its offerings and, potentially, its future market position.
Pradeep Sindhu, CTO and founder of Juniper Networks, spoke with the E-Commerce times about the deal, the company's future and an initiative he thinks will change networking forever.
E-Commerce Times: Why did Juniper decide to buy a security hardware maker?
Pradeep Sindhu:
The decision was actually a very simple and natural one. If you look at networking, the more connected a network becomes, and the more people are connecting with each other, the more important the problem of security becomes. Building good telecommunications hardware makes it more efficient for good data to flow, but the bad things can flow equally efficiently. And as the network becomes more efficient, the problem of security becomes more acute. That's the backdrop of the acquisition.
ECT: Considering the number of security hardware developers in the industry, why did Juniper choose NetScreen in particular?
Sindhu: With NetScreen, we saw a team that valued the same things that we did. Everyone was very closely aligned in what they saw as overall challenges and directions. Also, the way that problems were approached was the same in both companies — we attacked difficulties in hardware and software similarly. So, given the fact that both companies saw possibilities for new products, we saw a lot of synergy in combining the companies.
ECT: With the acquisition of NetScreen, Juniper will again be competing head to head with Cisco. How does Juniper try to distinguish itself from its fiercest rival?
Sindhu:
The main way is that we are purpose-built. This is the only thing we focus on. The analogy is if a consumer wants a Wal-Mart where you can go and buy anything, from videos to toothpaste to jeans, that's fine. But if a consumer wants something very specific that's geared toward him, a Wal-Mart isn't going to have it.
Similarly, with networking, you may want something that's custom built and that you can rely on. We build best-of-breed equipment and make aggressive use of technology, but it's always for the use of customers. We're not just building technology for the sake of it. We want to make sure that what we're doing is highly relevant. We distinguish ourselves that way, through our products.
ECT: What do you think of the competition in general in the industry?
Sindhu: Essentially, what our competitors build is legacy Internet. It's not so reliable, and security is chancy at best. And to understand why there's a difference, you have to look at the way technology is built. Because we custom build our products, the scale is much smaller, and that leads to our devices having much higher packet-processing horsepower.
Why is that important? Because whether you look at the problem of delivering reliable networks, or networks that run at high quality, they all require packet-processing power. We're able to deliver better-quality products without compromise.
ECT: Besides bringing products out of the NetScreen acquisition, what else does Juniper envision happening in the future?
Sindhu:
About six months ago, we announced the Infranet initiative, with "infra" standing for "infrastructure." It's a vision of what we believe a network ought to look like — and will look like in the future. It describes how the current Internet will evolve into a packet-based network but with certain characteristics that it doesn't have now. We think this is a major area that's worth our attention, since it could determine the direction of the future, not just for Juniper, but for everyone.
ECT: Why do you think there's a need for the initiative?
Sindhu: The trouble with the Internet as it exists is that businesses can't take a mission-critical application and deliver it online. The reason is that the Internet is lacking in security, reliability and quality. The last is about quality of service, which means what you can guarantee to the end user. Right now, all you can guarantee is that the set of applications that he can run in his environment is limited.
ECT: How would using an Infranet change that?
Sindhu:
If you're able to provide an Infranet, it broadens the set of applications hugely. We can all run on a common infrastructure. Second, the service providers can give much better value, because they can save money.
If you look at today's situation, with what's coming to us from legacy networks, it's similar to what happened in other kinds of separate networks. If you look at broadcast networks, radio, cable TV, telephone, VPNs and so on, the situation is very complicated. And because it's complicated, it's also expensive. We don't believe that, in the long term, separate networks can last, simply because they're not economically viable. That's why we believe that a single networking infrastructure is the answer — to have the Internet buttressed with new things in order to provide a much broader array of services.
One thing that we find very important is to set standards worldwide. This would facilitate people communicating with each other, and that's crucial. HTML is an example of a worldwide standard, and if it didn't exist, you wouldn't be able to browse the Web today. So one of our first goals is to get some standards in place.
ECT: Why did Juniper decide to take on this broad issue about the future of networking?
Sindhu: We saw the industry in a downturn [and in] a rather befuddled state. There was no direction, and at Juniper, we had a clear idea of where we thought the industry should go. We thought it was our responsibility to provide leadership and direction.
This is not an initiative that Juniper alone can carry. We need the help of partners, customers and even competitors. We're getting this help and are, in fact, about to have the first meeting of the Infranet council to get the discussion going.