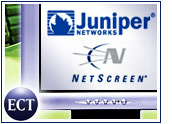 Juniper Networks has announced it will buy NetScreen Technologies in an all-stock deal worth an estimated US$4 billion. The pact gives number two network gear maker Juniper instant access to a well-regarded provider of network security solutions, including firewalls and virtual private networks.
"In the simplest terms, it's time to lead, and there's no better way to lead than to match strength with strength," Juniper CEO Scott Kriens said in a conference call.
---
EDITOR'S NOTE (February 9,2004):
See our exclusive interview with NetScreen executive officer David Flynn — "
Deepening the Firewall
" — for a discussion of the competitive landscape in the firewall market.
---
All of NetScreen's 900 employees will be retained, at least initially, giving the combined company a workforce of about 2,500. "The NetScreen management team and employees are central to this deal," Kriens said.
On the Upswing
NetScreen has grown its business every quarter in the last three years, even through the worst of the technology downturn, and has turned a profit more often than not, most recently posting net income of $6.4 million on $81.1 million in revenue in the fourth quarter of 2003. NetScreen also has made some key acquisitions of its own, including a $265 million buy of VPN security firm Neoteris last October.
Analysts said NetScreen will give Juniper access to more enterprises — business that it needs to replace the decimated telecommunications and Internet service provider market that both Juniper and its top competitor, Cisco Systems, relied on for rapid growth in the late 1990s.
Piper Jaffray analyst Sanjiv Wadhwani said Juniper was already poised for a strong 2004 before the NetScreen deal, which should enhance its image among the enterprise customers it is trying to woo in greater numbers.
"The company has also managed to land some new carrier contracts and is in the running for some others," Wadhwani said, noting that Juniper may be able to argue that its offerings now rival Cisco's in their ability to provide a full menu of services, including security. "That's something that Cisco has had a great deal of success with, and Juniper wants to follow suit."
Growth Market
IDC analyst Charles Kolodgy told the E-Commerce Times that NetScreen not only has locked in the number-two ranking for security appliances worldwide, but also has seen its sales rise continually, unlike other firms that have seen growth slow.
"The overall security market is going to continue to grow this year, which bodes well for a vendor like NetScreen," Kolodgy said, noting that new virus threats and other security issues will ensure a steady stream of demand. "Certainly, Cisco has not been shy about wrapping security into its hardware, and now Juniper appears to be doing the same."
Common Ground
For his part, Juniper CEO Kriens said both firms have overlapping markets, with some carriers using NetScreen's technology and Juniper winning more enterprise customers. "We are addressing similar needs; we both serve mission-critical, highly complex networks," he said.
The companies also have made it clear that they intend to expand their market reach. NetScreen recently launched products aimed at smaller enterprises, and Kriens said the explosion of digital content delivery represents more demand for networking gear and security.
Juniper has long been a distant second to gear giant Cisco. Both companies were particularly hard hit in the telecommunications industry bloodbath ofrecent years and have turned their attention to enterprises and even consumers to help rekindle their businesses.
Up and Coming
The purchase comes on the heels of Juniper's fourth-quarter earnings announcement. The company easily beat analysts' estimates for both sales and profit, earning $15 million on $207 million in revenue.
The deal calls for each share of NetScreen to be exchanged for 1.404 shares of Juniper Networks.
NetScreen shares soared higher on news of the deal, rising 33 percent to $35.14, while Juniper shares sagged, falling 13 percent to $25.65.