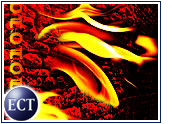 In a deal that could help reshape a growing segment of the network security space, NetScreen Technologies plans to buy SSL virtual private network (VPN) firm Neoteris for US$265 million in stock and cash.
NetScreen said it will pay $245 million in stock and $20 million in cash to acquire privately held Neoteris, whose shareholders stand to receive an additional $30 million if the merged company hits certain targets.
NetScreen said Neoteris' secure sockets layer (SSL) technology will become increasingly important as more VPN deployments involve employees accessing networks from various locations, rather than the site-to-site VPN that NetScreen already serves with its IPsec products. The company cited research data indicating 80 percent of users will access VPN systems using SSL technology by 2006.
IDC analyst Charles Kolodgy told the E-Commerce Times that NetScreen appears to be trying to build on what is already strong growth in the security appliance marketplace, picking up some smaller customers from Neoteris while also expanding the menu it can offer enterprises.
"Security is an area where having a trusted vendor is of utmost importance," Kolodgy said. "Companies want security providers that can offer end-to-end solutions."
No Client Needed
SSL VPNs use browser-level security, eliminating the need to have each remote user of a VPN install software on his computer. To date, the technology has largely been the domain of several smaller private companies.
"We believe we are acquiring the market leader," NetScreen CEO and president Robert Thomas said in a conference call.
Thomas said the purchase is an important step in NetScreen's year-old effort to introduce more application-level security solutions, mirroring an industry-wide trend toward protecting individual applications rather than building firewalls that keep everything either in or out.
NetScreen is already a market leader in firewalls and other network security applicants.
Jobs To Stay
Other companies also were interested in buying Neoteris, according to that company's CEO, Krishna Kolluri, who said NetScreen's offer was not the deal with the largest price tag "but made the most sense going forward."
NetScreen said it expects to offer positions to most if not all of Neoteris' 160 employees, including Kolluri, who will oversee an SSL division.
NetScreen's shares traded higher on the news, climbing about 3 percent to $22.81.
Buy, Sell, Trade
Overall, the network security marketplace has been shaped largely through acquisitions and mergers. This year in particular has seen another burst of M&A activity in the space.
In the past 15 months, Symantec spent $375 million on three separate private companies, while Internet Security Systems and Network Associates also scooped up smaller firms, in many cases buying technology that they plan to fold into their menu of offerings.
Aberdeen Group analyst Eric Hemmendinger told the E-Commerce Times that waves of consolidation likely will continue in the space.
"Smaller companies might have killer technology but often lack the reach to get inside the biggest enterprises," Hemmendinger said. "These deals often are the best answer for both the buyer and the seller."