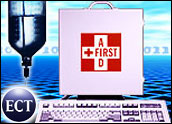 Adding another feature to its on-demand computing initiative, IBM has released a set of tools that it says will help developers build computer applications and systems that can identify and fix their own problems before they cause havoc.
IBM's so-called autonomic computing tools are based on the Eclipse open-source framework and are designed to work with the IBM Software Development Platform. With the tools, which include embeddable components, documentation and usage scenarios, developers can train applications to spot, diagnose and repair problems on their own.
IBM vice president Alan Ganek said Big Blue hopes to "jump start" the use of autonomic solutions, which most analysts say are still in the earliest stages of development and acceptance in the marketplace.
Ganek said IBM chose to build the tools into Eclipse because it is "emerging as a common development framework."
Four on the Floor
The toolkit, which is available for download from the IBM Web site, supports a range of systems and platforms, including AIX, Linux running on Intel and Windows 2000. The tools cover four main areas:
The Autonomic Management Engine enables administrators to set up automatic monitoring of applications.
The Integrated Solutions Console integrates all monitoring activity into a single, Web-based infrastructure.
Solution Installation tools are designed to reduce conflicts between various applications and the platforms running them.
Problem Determination tools include ways to standardize data exchange on computer problems, an adapter that converts application-specific files into a common format, and a trace analyzer designed to speed analysis of problems faster.
The tools are based in part on IBM's year-old Autonomic Computing Blueprint, which the company published in April 2003.
Still Emerging
Analysts say that while cutting-edge developers likely will be eager to find out what the IBM tools can do, widespread use of autonomic technologies is still some years in the future.
"Obviously, the upside is very appealing: The more networks and applications can do to monitor and fix themselves, the better for any IT organization," IDC analyst Chris Ingle told the E-Commerce Times. "It's still early in the game for these tools. The people using them are mostly just trying to see what they can do."
Ingle also said adoption of autonomic computing may be delayed by the lack of a single standard, which could give some enterprises pause about being too early to jump on a bandwagon before it becomes widely adopted.
Trickle-Down Effect
However, IBM said several companies have been using beta versions of the toolkit for some time, including Hitachi Software, Opalis Software and Toshiba Solutions. Big Blue said it expects to update the kit regularly as it receives feedback on potential improvements from users.
Also, Yankee Group analyst Andrew Efstathiou told the E-Commerce Times that application developers' apparent interest in autonomic technologies bodes well for a trickle-down effect to the general computing population as developers find novel ways to use the tools, probably even in settings IBM has yet to consider.
"It will probably be three to five years before it makes its way down the food chain," he said. "But IBM is doing what Microsoft and others have done well over the years — hook the developers in, and you've got a solid foundation for injecting new technology into the marketplace."
Partners in Crime Prevention
Separately, IBM announced Friday that it will expand its existing strategic relationship with Cisco Systems to include more focus on network and computer security.
The two companies said they will work to better integrate what are now disparate security features and tools.