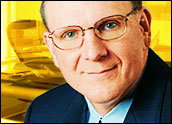 At its TechEd conference Monday, Microsoft announced several tools and technologies aimed at developers and other IT professionals. During the keynote speech, CEO Steve Ballmer stressed that these advances in enterprise tools are part of the company's push to give customers better security and IT productivity options.
The tools that were highlighted include an expansion of the Visual Studio line, an add-on to .NET and a beta release of a developer tool called the Microsoft Office Information Bridge Framework.
Since the keynote, Microsoft has unveiled other initiatives during the conference as well, including an expanded security portfolio with Hewlett-Packard and software that bolsters identity management for Internet users.
Primarily a technical training event, the Microsoft TechEd conference continues until Friday. Its sponsors include AMD, Computer Associates, Dell, EMC and HP. According to Microsoft, this year's event has drawn a record number of attendees, with more than 11,000 people, an increase of 22 percent over last year.
In Development
The main addition to Microsoft's Visual Studio line will be Visual Studio 2005 Team System, which focuses on managing application development projects and allows for better interoperability with corporate IT systems.
Team System also increases the predictability of the software development process and shortens the development life cycle. It will include modeling tools for representing back-end systems and a method for gauging how a new application fits into a company's existing projects.
The package will be available with the release of Visual Studio 2005 in the first half of next year.
Enhancement and First Looks
One piece of software announced at the conference and available now is Web Services Enhancements (WSE) 2.0 for Microsoft .NET, a free add-on to Microsoft Visual Studio .NET and the .NET framework.
Microsoft noted that more than 250,000 developers now use WSE to build security-enhanced Web services. The add-on will allow them to use WSE to incorporate WS-Security into their projects.
Additional features include extensible transports, support for custom policies, the ability to host Web services independent from IIS, and asynchronous messaging based on the WS-Addressing specification.
In his keynote, Ballmer also announced a new Web services initiative, the Office Information Bridge Framework. This set of tools will enable developers to connect Microsoft's Office productivity software with Extensible Markup Language (XML) Web services.
The product is currently in technical beta release, and a date for its official release was not given.
Locking Down
Some other announcements at the conference also revealed that Microsoft and HP are expanding their relationship with an agreement to market and produce a hardware security solution built on technology created by the two companies.
The HP ProLiant DL320 server running Microsoft ISA Server 2004 is designed to help customers against new and emerging threats, according to HP, and will be available later this year. It will be one of the first security products to offer virtual private network (VPN), cache and firewall capabilities.
Bill Carlisle, director of Microsoft solutions at HP, told the E-Commerce Times that other security hardware and software combinations address either VPN or firewall, but the DL320 is unique in its flexibility to address both.
He added that the combination is also unique because it centralizes support. "Customers can call HP for both software and hardware support," Carlisle said. "That will be very important, and we think customers will appreciate it."
In addition, the companies announced availability of the HP ProtectTools Suite for Microsoft software. According to HP, this software beefs up the security functionality provided by standard Microsoft products like Outlook and Exchange Server.
Playing the ID Card
On Tuesday, Microsoft also announced that it will release an identity management tool when it rolls out Windows Server 2003 R2 in the second half of 2005.
That software will allow a user to sign on to a Web site with his or her personal information, then take that identity with them to other sites.
Gartner analyst Avivah Litan told the E-Commerce Times that this type of tool is desperately needed. She noted that the rise in identity theft through tactics like phishing is making Internet users wary and ultimately may affect consumer confidence in online shopping.
"Microsoft is taking a step forward, and that's good," she said. "It's necessary. The company already knows that passwords don't work anymore for security, so finding different ways to prevent identity theft is crucial. Hopefully, other vendors will follow their lead."