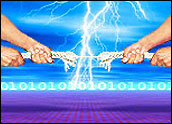 In the world of data storage, reaching the top of the market involves a precipitous climb, all the while facing fierce competitors, promising up-and-comers and changing business needs.
Longtime giants, such as EMC and Network Appliance, play major roles in the field, but heavy-duty storage offerings are also available from companies like Cisco, HP, Veritas, McDATA and Brocade.
To group all storage vendors together and then ascertain which one is the industry leader is a tricky task, however, because the industry players have taken different paths to success. In some ways, identifying the storage-industry leader is like setting out to determine which company makes the best vehicle for transportation — and then comparing Ford with Boeing.
Even so, several companies land at the top of their markets consistently, according to Morningstar analyst Rod Bare. Who are these leaders of the pack?
Different Markets, Different Players
Bare told the E-Commerce Times that EMC is well positioned to succeed because recent acquisitions have given the company notable software assets.
"They've gotten software that manages the documents that fit on storage," he noted. "That's very useful to the business world."
Bare added that EMC also has benefited from promoting information lifecycle management, a system that basically applies common sense to storage through an understanding that certain pieces of data need to be accessed more often than others.
Tippy Top
Pete Gerr, an analyst with the Enterprise Storage Group, told the E-Commerce Times that besides EMC, the other big vendors catering to enterprise-class customers are Hitachi and IBM. That trio is at the peak of the storage-vendor market because they typically support open systems and mainframes.
He noted that other large system vendors in the space include HP, Sun, Network Appliance and, in some markets, Dell.
Although Bare said he also views Network Appliance as part of the upper echelon, although he thinks the company is a little overvalued right now.
"Network Appliance is a good company with a great technology," he said. "They specialize in making storage that fits in very distributed organizations."
Switch It Up
In terms of storage switch makers, which are operating in a robust part of the storage industry, Bare noted that McDATA and Brocade are the leaders in the field. For his part, Gartner analyst James Opfer told the E-Commerce Times that Brocade has the leading share of the market.
Both companies may come under pressure in the coming year, according to Bare, because some switch components have been priced at monopoly margins in the past. As competitors enter the field, those margins are coming down. That means newer entrants in the field, such as Dell, could precipitate a price war.
Opfer noted that Key Logic has become a serious contender in the switch space, and Cisco is positioning itself to advance as well. "In terms of firepower, it's getting difficult to lead in all the areas," he said. "Companies are going to find that they perform well in some areas, and in others they don't."
The storage switch market is an attractive and growing one, Opfer added. As a result, it is possible that in the near future, a clear leader will not be so easy to spot.
Coming Up Fast
Several smaller players in the market also are noteworthy, Gerr said. He pointed to vendors like FalconStor, which he said has done an excellent job of attracting some major systems OEMs to resell its products.
Another interesting entrant is Isilon Systems, a startup that focuses on media and entertainment. Left Hand Networks also is doing well, Gerr noted, especially in the network-attached storage (NAS) space. He added that he is watching LSI Logic, too, as it spins off a separate subsidiary that deals only with storage.
"Users typically like to stick with trusted vendors," he said, "but these vendors are doing a good job with bringing out products that are worth noticing."
Staying Ahead
Bare noted that companies that want to compete effectively in the market need to work to maintain openness regarding new protocols that are in development.
New languages are being developed to efficiently move data around a network, he explained, and storage vendors that do not remain open to changing their products may get left behind.
Also, flexibility in pricing could make the difference between a vendor leading or falling behind. "The SMB market is really growing, and storage companies should develop an openness to the price points that the SMBs have to work with," Bare said.
He added that companies that want to develop a competitive advantage also would be wise to focus on security. "Security might have been secondary before," he said, "but it's moving to the forefront now."
Moving Target
In essence, identifying the top storage vendor is like aiming at a moving target. Just when it seems a market leader has been determined, another company crops up with a different offering to challenge the front-runner.
With so many contenders, the industry is far from dull.
"New vendors aren't pouring in," Gerr said. "But the competition is interesting to watch."