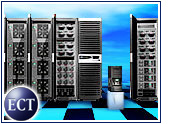 Hewlett-Packard unveiled a line of low-cost servers aimed at the small- and medium-sized business market, saying it would sell the products for as much as 50 percent less than similar offerings from competitors.
HP said the server-storage products are part of its larger smart-office push to attract more nonenterprise business customers, an initiative it announced over the summer. Other companies have also set their sites on the so-called SMB market, in part because enterprise spending has lagged for so long.
In addition to slashing prices on the products, which analysts said might lead competitors such as EMC, Dell and IBM to follow suit, HP said its products were designed to be simple to set up and expand.
The smart-office push is aimed at companies that can benefit from stronger technology but lack the information technology staff to put complex server-storage arrays into place.
Simple Is as Simple Does
HP vice president Nigel Ball said the company "simplified the purchase, use, management and maintenance for small and medium businesses." The StorageWorks MSA products are meant to be tied to HP's ProLiant servers.
HP also said its storage units, which start at under US$10,000 and can run up to $20,000, depending upon exact specs and configurations, cost 25 to 53 percent less than comparable systems sold jointly by EMC and Dell and 35 percent less than IBM's offerings.
Feeling Frisky
The timing of the move is not a coincidence, according to Gartner analyst Martin Reynolds, who said HP's latest earnings report, in which it said all business sectors were operating at a profit for the first time since its merger with Compaq was consummated, puts the company in a strong competitive position.
"I think you'll see them start to leverage that strength in various ways heading into 2004," Reynolds told the E-Commerce Times.
While the past two years have seen Dell in the strongest competitive position, enabling it to lower prices aggressively, HP's stronger financial position might allow it to make similar gambits in key parts of its product line.
"They'll choose their spots and this market makes a logical place to start," Reynolds added, because the customer base might be more sensitive to pricing changes than the enterprise sectors.
Three for the Road
All told, HP rolled out three separate products on Monday: the MSA30, a direct-attach storage unit meant for workgroups and department-sized deployments; the MSA500, which can accommodate remote sites and distributed clustered environments; and the MSA1000, an entry-level storage-area-network array designed for companies that need to upgrade to a networked solution.
HP has also introduced several packages, each with one SKU, one price and one shipping container for faster deployment. The HP ProLiant DL380 Packaged Cluster with MSA500 carries an estimated list price of $9,999 and the HP ProLiant DL380 Packaged Cluster with MSA1000 carries an estimated list price of $19,999.
The HP MSA500 and MSA1000 starter kits have estimated list prices of $5,499 and $14,900, respectively. The HP MSA500 and MSA1000 High Availability Kits have estimated list prices of $3,999 and $14,500, respectively.
The MSA30, MSA500 and MSA1000 also are available individually and have estimated list prices starting at $3,200, $5,700 and $9,995, respectively. The MSA family runs the customer's choice of Microsoft, Linux or Novell operating systems.