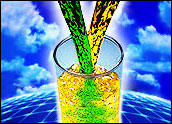 At its eWorld customer conference Tuesday, BEA Systems introduced new products and services that support Liquid Computing, an initiative that builds on a Service-Oriented Architecture (SOA) foundation.
Formerly named Project Sierra, Liquid Computing's goal is to improve interoperability between BEA products and other systems. The new additions to the initiative are the BEA WebLogic Server Process Edition, plus support services that build on and expand the BEA WebLogic Platform.
These components will act in conjunction with two technologies still in development, code-named QuickSilver and Alchemy. BEA has noted that with these products and services, Liquid Computing will help companies increase responsiveness and reduce IT complexity and costs.
Logical Addition
WebLogic Server Process Edition is an extension to the company's current server software, which is often used to run business applications written in Java.
The new edition features business process management tools that can be used to build Java applications that automate processes for disparate systems.
Meanwhile, QuickSilver is designed to improve compatibility between BEA's WebLogic applications, systems like .NET and other Java server software, such as WebSphere. The integration software is built around Web services protocols that allow data to be shuttled between disparate systems.
In its spate of announcements, BEA also revealed an open-source initiative called Beehive, a project within the Apache Foundation. Applications written using the Beehive tool will be allowed by Apache to run on different Java application servers.
An additional project that was mentioned but not significantly detailed by the company is Alchemy, which is designed to simplify development of mobile applications.
Major Moves
The development of Liquid Computing is significant for BEA, Forrester analyst John Rymer told the E-Commerce Times. The company has been stagnant in the last two to three years, he said, and desperately needs to grow if it is to go forward.
"Their last quarter was terrible," he added. "Their stock price is in the toilet." With new products and services, that situation may change, enabling the company to find the expansion it needs.
Rymer said: "In order to perform again, the company needs to expand its base of revenue, and that's what it looks like they're doing. Liquid Computing is essentially new product development at the company."
Service Oriented
With its Liquid Computing initiative, BEA is betting on the appeal of SOA, a design approach that can make computing systems more cost-effective and flexible. SOAs are sets of principles and practices for sharing, reusing and orchestrating business services or components.
Similar to urban planning, SOA can give a company the ability to map out its architecture and general scheme, even if different building materials and technologies are involved.
According to Gartner vice president Yefim Natis, by 2008, more than 60 percent of enterprises will use SOA as the "guiding principle" when creating applications and processes.
"SOA has obvious benefits to application developers," Natis told the E-Commerce Times. "It results in better management of applications, better quality and more consistent design."
Natis noted that many of the newest applications being built are developed in Java. Because BEA is a top supplier of Java server software, he anticipates the company also will benefit from promoting SOA. "They're the leading software infrastructure vendor," he said.
Silver Medal
One of the most promising technologies announced Tuesday is QuickSilver, according to Rymer.
He noted that QuickSilver could be an important product because BEA currently cannot go into companies that use, for example, WebSphere, and sell its integration software. "Companies don't understand why they should buy BEA if they have WebSphere," he said.
QuickSilver could allow BEA to sell integration to a broader customer base, even if those companies are using IBM or Oracle.
"This is an area where they have a good chance of success," Rymer said. "They understand the market, and they understand integration projects, and that's going to be an advantage for them."