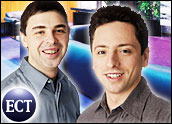 Taking its AdSense program in a new direction that could inject a breath of fresh air a traditional Internet-advertising style, Google has said it will begin testing banner ads.
The move comes as a surprise because Google's AdSense, which places ads based on the Web page content with which they appear, has relied exclusively on small text advertisements in the past.
"Our commitment has always been to enhance the overall web experience for users, advertisers, and publishers by delivering relevant search results and ads," Google said in a posting announcing the test. "We're simply combining images — which attract considerable attention — with our proven AdWords targeting technology."
The company said its computer systems will determine when it is appropriate to include graphic ads and when text ads should be displayed instead, using contextual clues from the Web page being targeted. This analysis, in turn, will enable a greater variety of ads to be placed before users.
New Neighbors
The move likely will create tension between Google and traditional interactive marketing companies, such as DoubleClick and 24/7 Media, which for years have used affiliate networks and placement programs to populate sites with banner advertisements.
Google insists its ads will be different because of their relevance. "Because of targeting, image ads are highly pertinent to the interests of a person browsing a particular content site," the company said.
The Google homepage itself, known for its spartan, no-nonsense appearance, will not be part of the test, according to the company. "The initial launch of image ads is focused on sites already showing graphical ads," Google said. "We look forward to offering more image ad distribution options in the future."
Decisions, Decisions
According to Google, publishers and other content-heavy sites must opt in to the graphic ad program. The ads will come in four shapes and sizes: a traditional banner ad; a larger "leaderboard" style; an inline rectangle ad that appears within text; and a long, narrow skyscraper ad.
In a move designed to maintain the relevance of its advertising, Google said ad images must relate somehow to the text with which they appear. For example, the search firm said, an ad placed on a page with the keyword "roses" would call for a floral image.
Second Front
Google also has quietly launched a beta version of a next-generation mailing-list service designed to compete with Yahoo! Groups. This service will enable people with common interests to communicate with each other via mass e-mails. It also will feature search tools. In the past, Google has mainly stored archived group threads compiled by Usenet.
Although the beta mailing-list service does not include any mention of advertising, speculation is that Google eventually will seek to leverage the focused content as a marketing platform.
Pulling Out the Stops
In terms of the big picture, Tom Taulli, co-editor of the CurrentOfferings.com IPO-focused site, told the E-Commerce Times that Google likely will use the run-up to its initial public offering later this year to roll out as many new programs and features as possible.
"They don't need more buzz, they've got enough of that," Taulli said. "They need to prove they've got a sound business strategy and can execute on it over the long term."
Earlier this week, Google relaunched the Blogger.com site in the first major upgrade of that Web publishing service since Google bought it in February 2003.