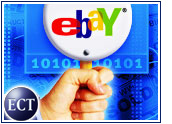 Underscoring the notion that selling on eBay has become a full-time job for many millions of users, eBay has announced it willoffer a health insurance plan to some of the more active members of its community.
The news came over the weekend at eBay Live, a three-day gathering of eBay employees and community members in Anaheim, California.
EBay has yet to unveil details of the plan, but the auction giant said it will be just one part of a new power-sellers program.
Power Sellers
"Power sellers are critical to our success," eBay CEO Meg Whitman said at the gathering. "Not only do you generate a tremendous amount of business, you tell people about eBay. In short, we love you guys."
Whitman said the new health plan will include dental, vision and pharmacy coverage — a nod to the fact that many families now rely on eBay for all of their income.
The announcement was greeted with loud applause from the audience of eBay users.
Personal Power
"It's an interesting gesture," Morningstar analyst David Kathman told the E-Commerce Times. "They can certainly afford to do something like this, and if it goes over well, they might decide to extend other benefits to power sellers."
EBay is deriving an increasing amount of revenue from big corporate sellers. But the new insurance offering sends a clear signal to individual sellers about their importance to the auction giant.
"A lot of the old-timers have been expressing resentment, feeling that eBay is turning its back on them," Kathman said. "This type of move seems to be an olive branch to those individual sellers who have been around a while."
Community Matters
Whitman herself acknowledged that eBay has made some mistakes in the past.
"While you can always argue that over the years we sometimes got in the way, or that we didn't listen closely enough, we have always tried to do the right thing by our community," Whitman said.
"We've gotten it right most of the time," she added.
Big Markets
While the meeting focused on community, Whitman and others acknowledged the company's importance as an e-commerce force.
EBay users are on track to trade US$12 billion worth of goods in total during 2002, or about $400 every second.
"If eBay was a retailer, which of course we are not, we would be the fiftieth largest retailer in the world," Whitman said.
The company recently said it is on track to book $1 billion in revenue during 2002, slightly below analysts' predictions.
Questions and Answers
During the weekend, Whitman and other eBay executives also answered a range of questions about eBay.
In response to a question about whether eBay intentionally tries to make it hard for users to employ the PayPal system, executives said the company is trying to create a "level playing field" for PayPal and competing payment systems, including eBay's own Billpoint system.
Whitman also said that eBay's recent withdrawal from Japan does not indicate that the company has given up on establishing a presence in that country, which she noted is the world's second largest economy.
"We were a distant second, and that's not where we want to be," Whitman said. "But you have to think long-term in Japan. There are companies that have 100-year business plans."