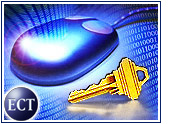 In an effort to attract users from the small business arena, eBay has forged a deal with office outsourcer Regus to help businesses find and rent equipped offices.
The new service is part of eBay Real Estate, an online marketplace for realestate-related properties and services that was launched in August 2000.
Office space is the latest addition to eBay's online marketplace, which already features residential homes, time-shares, foreclosures, land plots and industrial properties.
Growing Market
"As the percentage of small- and medium-sized businesses continues to grow, services like those provided by Regus will continue to increase in demand," said Doug Galen, vice president and general manager of eBay Real Estate. "By working with one of the best-known brands in the industry, we are helping business owners lower their occupancy costs."
The Regus office space featured on eBay Real Estate is available in advertising format rather than as auction-style items. This lets each seller receive leads from multiple interested buyers rather than from a single high bidder. The ads typically cost US$150 for a 30-day listing.
Renters can lease office space at Regus locations for a day, a week, a monthor on a long-term basis. Regus locations offer a mix of workstations, conference rooms, cafes and common areas. All offices come with communications systems, Internet access and IT support. The company does not require any up-front capital, and some office space can be had for as little as $8 per day.
Big-Ticket Plays
The eBay expansion comes as little surprise to analysts. Morningstar analyst David Kathman told the E-Commerce Times that real estate is one of thepotential big-ticket areas — along with cars and computers — in which eBay haslong hoped to generate significant revenue.
According to the auction giant, its eBay Motors marketplace alone peddled $1 billion in cars and auto parts last year. EBay also has found success with mainstream marketplaces from computer companies like IBM,Dell and Sony.
Real Estate Revival
Executives at eBay said they hope to make the real estate marketplace just as successful as other big-ticket areas of the site by beefing up commercial offerings aimed at the small business market.
According to Kathman, eBay's auto and computer marketplaces have been doing fairly well. "But, as I recall, their real estate marketplace has been hampered by legal and regulatory issues," he said.
"In many cases, an auction on eBay can't be a legally binding contract to buyreal estate, especially if the deal crosses state lines," Kathman added."This deal with Regus is for office space, which might not have so many regulatoryhassles."
Executives at eBay and Regus were not available to comment on terms ofthe deal.