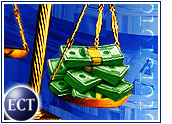 In this economy, eBay's bid to pay US$1.5 billion for online payment company PayPal may seem excessive, even for the likes of the auction giant. And while some analysts said they believe eBay will get its money's worth, others are not yet convinced that the deal is sound.
Stan Prescott, strategic analyst at Frost & Sullivan, told the E-Commerce Times that the $1.5 billion valuation is "suspiciously high."
And Morningstar.com analyst David Kathman also sounded a note of caution. "Both eBay and PayPal are great companies," Kathman told the E-Commerce Times. "But that doesn't necessarily translate into a great stock if the market's expectations get out of hand."
For PayPal, no doubt, the deal is a good one, at least from a financial perspective. Based on eBay's Friday closing price of $60.55, the merger values PayPal shares at about $23.61 — more than $3 above its Friday close of $20.
AMR Research analyst Louis Columbus told the E-Commerce Times that he believes eBay and PayPal arrived at a fair price. However, he noted, "Paying more would have been pushing the ROI envelope."
Synergy Exists
When eBay announced its intentions, company spokesperson Kevin Pursglove told the E-Commerce Times that "the valuation is fair and … the deal is financially attractive. We are basically trading 8 percent of our company for the most popular online payment network, which we believe will expand both platforms and increase the value of both companies."
The two companies do have a synergy that in retrospect seems sorely lacking in other big-ticket mergers, such as AOL Time Warner. That conglomerate's blending of content and content provider has so far produced only a spectacular $54.2 billion quarterly loss.
But unlike AOL and Time-Warner, which had scant dealings in their pre-merger days, PayPal already has a tried-and-true relationship with eBay, handling "a fair proportion of transactions" for the online giant, Giga Information Group analyst Andrew Bartels told the E-Commerce Times.
And according to Columbus, "Since PayPal has been the de facto company for the bulk of eBay customers, [it was a] low-risk proposition for eBay to purchase them."
Already Mates
EBay's purchase of the online payment company will help resolve woes associated with its own Billpoint system, which it plans to phase out. In addition, eBay stands to profit from a portion of every transaction processed by PayPal.
The acquisition also will give eBay entree into other types of online services, Bartels noted.
Under terms of the deal, each share of PayPal will be exchanged for .39 shares of eBay.
Natural Fit
As the economy has sagged, merger and acquisition activity has risen. But some companies make better mates than others. Bartels noted that while the AOL-Time Warner deal, for example, seemed like a good match on the surface, the synergy "was much more speculative than real."
"In theory, they would own both content and distribution. In reality, you cut your own revenue throat by limiting the channels you go through," said Bartels.
On the other hand, the eBay-PayPal union has the endorsement of the auction site's formidable customer base and is based on a proven, workable model.
"The eBay customer base has spoken, and their preference for handling small transactions is PayPal," Columbus said. "This is a unique acquisition in that it has been test-driven for a number of years."
Gambling with Economics
However, Frost & Sullivan's Prescott noted, "The IT industry has historically paid too much for acquisitions. If you look at the balance sheets of the industry, many companies have excessive intangible assets called goodwill.
"Goodwill," Prescott said, "is so inscrutable that the SEC is coming down on these companies, forcing them to accelerate the amortization off their balance sheets. When you pay too much for a company, it hangs on your balance sheet for a long time and might not be a true representation about a company's assets.
"In and of itself, the PayPal fees generated by transactions on eBay could not justify the valuation of $1.5 billion," he added.
Snags and Suspicions
Morningstar's Kathman seemed to agree that the deal's valuation is high.
"I've said that $1.5 billion is not a bad price, relatively speaking, given the performance of PayPal's stock since the IPO," he said. However, he noted, "In absolute terms, it's certainly very expensive by just about any metric you care to use."
Kathaman pointed out that $1.5 billion is 7.7 times PayPal's annual revenue run rate (based on the company's first-quarter revenue of $49 million), which represents a forward price-earnings (PE) ratio of about 60.
"Those numbers," said Kathman, "assume a lot of continous sales and earnings growth over many years." Kathman said he believes PayPal is in a decent position to achieve that growth — especially as part of eBay — but he reiterated that $1.5 billion is a lofty valuation.
"Lots of things can go wrong, as so many Internet companies demonstrated over the past few years," he said. "Of course, eBay's valuations are even higher than PayPal's — a run-rate price-to-sales ratio of 17 and forward PE of 80 — which is why I'm wary of the stock."