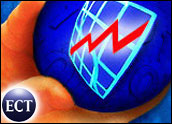 PayPal has reported that its second-quarter earnings and net income have increased, doubling in key areas compared to year-ago results.
The online payment company reported second-quarter revenue of US$53.8 million, a whopping 173 percent increase over the same period last year. Net income totaled $529,000, compared with a net loss of $27.2 million in the second quarter of 2001.
Second-quarter revenue was up from first-quarter revenue of $48.8 million. PayPal executives credited that growth to an 11 percent increase in total payment volume.
Business and premier accounts make up an overwhelming 90 percent of the company's total payment volume and experienced 119 percent growth from the year-ago period, according to PayPal.
Broad Adoption
"The strong growth of PayPal's global network led to record payment volume and increased revenues," said PayPal cofounder and CEO Peter Thiel. "We continue to see broad adoption in e-commerce — both auction and fixed price, both in the U.S. and internationally."
Indeed, PayPal added 2.5 million registered accounts in the second quarter — an average of 27,000 per day — to reach a total of 17.8 million. Business and premier accounts grew by 480,000 to total 3.7 million, and international accounts grew by 399,000 to total 1.8 million.
"Convenience, user-friendliness and a widely installed user base have helped [PayPal] grow like wildfire," Morningstar.com stock analyst George Nichols told the E-Commerce Times.
The eBay Factor
With its February initial public offering, PayPal became one of the first Internet companies to go public in the past couple of years.
Now, with eBay's pending acquisition, all eyes are once again on PayPal, which bases the majority of its business on auction payments.
The Mountain View, California-based company saw continued adoption of its services by the eBay community in the second quarter. An estimated 75 percent of eBay auctions listed PayPal as a payment option in the period.
That figure impressed analysts. "In PayPal's infancy, only a few eBay listers accepted its payments," said Nichols. "Nowadays, a number of merchants insist on PayPal as the preferred payment option."
In an effort to leverage its reach, PayPal launched several new eBay-related features in the second quarter.
For example, Auction Finder lets winning bidders pay for multiple auction purchases at one time, and Winning Bidder Notification encourages buyers to use PayPal at the end of a successful auction.
Beyond the Core
Beyond its core auction business, PayPal also saw robust growth in payments involving fixed-price sales, services sales and other cash transfers.
As a result, the company's auction-related share of total payment volume decreased to 59 percent in the second quarter of 2002 from 61 percent in the first quarter of the year. In turn, non-auction-related share of total payment volume increased to 41 percent from 39 percent in the same period.
With eBay scrapping its Billpoint online payment service, analysts said they anticipate continued post-merger revenue growth for PayPal.
PayPal's share price fell 15 cents to $21.07 after the earnings announcement.