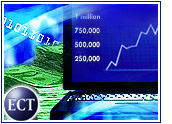 They were among the e-commerce sectors given up for dead. But like others before them — such as online grocery and clothing sales — they have endured in the face of all adversity and have even begun to show signs of turnaround.
"A lot of sectors have been completely changed from what people thought they were going to look like," Giga Information Group analyst Andrew Bartels told the E-Commerce Times. "Instead of going away, the companies reinvented themselves. It's a healthy process."
The results so far might not be conclusive enough to call these sectors long-term winners just yet. But considering that they were once given up for dead, they're doing just fine.
Score One for Stamps
In October 2000, it was widely believed that Stamps.com would be the next victim of the rampaging dot-com shakeout. In a week, the company's CEO quit and more than half of its employees were kicked to the curb.
Stamps.com took its share of ribbing as analysts and observers questioned the wisdom of its business model. But a funny thing happened on the way to the dot-com graveyard: Stamps.com managed to hang on long enough to hit some milestones.
The company executed a merger with Estamp, and more recently won approval from the U.S. Postal Service (USPS) for its new product, NetStamp. It also hooked up with PayPal and, by extension, with venerable powerhouse eBay, through a partnership.
Bleeding Slows
Last month, Stamps.com reported a quarterly loss of about US$2 million — just a fraction of the $30 million it bled during the same quarter a year earlier. CEO Ken McBride said the new products and improved financials are just two of the milestones that Stamps.com has targeted for what he calls "our 2002 product overhaul."
"We are keeping a tight rein on costs," McBride said, which helped the company end the second quarter with more cash than it began with for the first time in three years.
Analysts still have doubts about the adoption of electronic postage, but they noted that the support of the USPS is a step toward solidifying the sector on the e-commerce landscape.
Predictions Silly
Every prediction made three or four years ago about how many cars would be sold online by 2002 now looks a bit silly. Sure, cars are being sold on the Web, but where the Internet really comes into its own is in helping to arrange car sales through traditional dealerships.
That is a subtle difference, but a key one for e-commerce. One of the companies that seems to have recognized that difference is online car marketer Autobytel.
"The Web, and Autobytel in particular, have changed the way people buy cars," Forrester Research analyst Mark Dixon Bunger told the E-Commerce Times. "There's still work to be done, but the transformation has been impressive."
Three-Quarter Gain
Autobytel said a recent J.D. Power & Associates study of online car buying showed that Autobytel has made more dealership referrals than any other Web company, and that the company has helped boost online used car sales, which had been lagging.
"The online car industry is entering a new phase," chief marketing officer Andrew Donchak told the E-Commerce Times. "We were able to recognize that shift early on and be at the forefront of it."
However, some analysts, including Bunger, are skeptical about Autobytel's long-range prospects, since the company makes just a tiny fraction of a car's selling price for its referral.
In fact, in the second quarter, the company recorded just under $18 for each of the 1 million "purchase requests" sent to dealers around the country through its site.
But Autobytel said it also receives flat fees from some dealerships, as well as marketing and promotional payments. "There seems to be real long-range potential given some tweaks to the business model," Bunger said.
Are We Buying This?
Is Buy.com a comeback story? By some measures, it is, say analysts.
"[Buy.com] has injected some interest into the e-tail business again," Morningstar.com analyst David Kathman told the E-Commerce Times. "It might not be able to go toe-to-toe with Amazon for long, but it has put the pressure on Amazon, which not many people thought was possible."
But because Buy.com is now a privately held firm, its financials are shielded from scrutiny, making it difficult to determine just how successful its price war with Amazon has been.
Buy.com chief operating officer Brent Rusick told the E-Commerce Times that the company'spromotional efforts, including free shipping and a bid to undersell Amazon on all books, have resulted in sharp jumps in both traffic and sales at Buy.com.
Analysts Eager
If Buy.com can make it, it might be the best turnaround story of all. Analysts eagerly proclaimed the firm's demise last year when its credit card company said it would no longer continue to process payments. But Buy.com has confounded those skeptics, so further surprises cannot be ruled out, Kathman said.
"Who knows what will happen? But it's been fun to watch," he added.