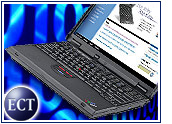 2003 was supposed to be the year of the PC upgrade. Last fall, as analysts fretted over a PC market that had lain fallow for two years, observers counseled that the coming year might prove rosy, with an upgrade cycle driven by, among other catalysts, a new version of Microsoft Office.
More than halfway through the year, however, a jump in PC sales is nowhere in sight. Merrill Lynch, which back in January forecast 7 percent year-over-year growth in unit shipments of PCs, published a reduced figure of 5 percent in July.
Strangely, it seems that tech-focused firms have been among the least likely to dig deep into their pockets to purchase new PCs. A June report published by Forrester Research showed 33 percent of technology and telecom firms are likely to spend less this year than originally forecast.
Despite the lackluster outlook, however, there is ample reason to believe that IT departments at companies of all stripes will be responsible for a good chunk of the PC purchases that do take place. After all, the people who manage and maintain enterprise networks and desktop computers are arguably the most competent consumers of new technology. They are also the ones for whom purchases of new PCs can most easily be justified by business function: All IT does is compute.
So, what sorts of computers are IT departments seeking?
Programming Power
Without a doubt, the highest level of IT computing power is reserved for the employees expected to live and breathe computing: programmers. In software development, time is money, so it is worthwhile to spend a significant sum on a developer's main tool if doing so boosts productivity.
The incursion of PCs into the Unix workstation market over the last several years has resulted in a high-end class of machine designed for intensive engineering work. These "performance-class" computers may contain not only the fastest processors available, but also extensive options for expandability, such as extra drive bays and faster peripheral connections.
A Dell Precision workstation, for example, features Pentium-4 processors running at clock speeds of up to 3.2 GHz, with front-side bus speeds of 800 MHz. Alternatively, developers can use a server chip, the Intel Xeon, at 3.06 GHz with a 533-MHz front-side bus. And Apple's new Power Mac G5 system is unique among desktops not only for its 64-bit processor, but also because it supports up to 8 GB of main memory and has peripheral component interconnect (PCI) slots running at 133 MHz, compared with the 100 MHz standard on many performance-class PCs.
In addition, CIOs should aim to keep abreast of emerging technologies, according to Roger Kay, vice president of client computing at research firm IDC. "A good CIO will be out there testing the latest technology on his or her system, starting to experiment as new capabilities become available," he told the E-Commerce Times.
What Is Good Enough?
However, although high-end machines may be appropriate for some employees, some analysts say most workers can be served by the good-enough view of computing, which holds that IT executives should concern themselves less with using the latest chips and more with determining how much PC power each worker really needs. In other words, Intel Pentiums are overkill.
IDC analyst David Daoud told the E-Commerce Times that the issue is a bit more complicated than this conceptual division indicates. The need to keep up with the latest capabilities likely means there will be more custom machines inside an IT shop, he explained.
"These days, it's less about the processor power, more about specific configurations," Daoud said, noting that IT professionals are likely to spend more time assembling machines with different mixes of hard disk capacity, optical drive options, memory capacity and other features in an attempt to find a good mix of system capabilities. "In general, there is more standardization on mainstream corporate desktops, more customization inside of IT," he added.
Customization also might be important to programming types who use the most powerful machines, because the right mix of parts might not always be available in a preconfigured machine. IT professionals who want to get their hands on, for example, AMD's recently released 64-bit Opteron chip may want to use it in workstations, rather than in the servers for which it has been designed. The ability to specify custom parts through a white-box vendor can be a way for IT workers to stay even closer to the bleeding edge.
Focus on Laptops
However, even if 64-bit computing is finally going mainstream, no one is willing to predict its proliferation across IT desktops yet. In fact, Howard Locker, a technology strategist with IBM's PC division, told the E-Commerce Times that 64-bit programs, such as Big Blue's DB2 database, can be coded in emulation on a 32-bit machine and later ported to a production server for real 64-bit testing.
Instead of focusing on 64-bit computing, IBM seems to feel that, as Steve Jobs said, 2003 is the "Year of the Laptop." The company has been running full-page ads for its ThinkPad laptops in such papers as the Financial Times, using the slogan, "What if you came to work and found this on your desk?"
Locker said ThinkPads are one of the most important elements for a productive IT force. "Almost all of us internally [in the PC division] are using ThinkPads," as a primary computer, he noted.
The benefit of using laptops, of course, is a workforce that can stay productive day or night, in or out of the office. In addition, these machines no longer skimp on features. Most corporate ThinkPads sold nowadays are the T40 model (no, it's not a Terminator), which have a Pentium-M chip for wireless networking, 2 GB of memory and a top hard drive configuration of 80 GB. When used in the office, all of these machines can connect to port replicators that allow use of an 18-inch flat-panel display on the desktop.
Again, though, the processor speed of IBM's machines is not necessarily the most important factor. While a model called the T30 includes faster versions of the Pentium-M, Locker said one of the most important things is extra RAM, as it enables all the elements of a programming project to be contained in memory, eliminating the so-called bus bottleneck that occurs when data must be accessed from the hard drive.
Positive Sign
IBM is not the only laptop maker aiming to target corporate PC sales. Dell's M40 and M60 laptops feature 2 GB of main memory and 100 GB of storage, and the latter includes a Pentium-M at speeds of up to 1.7 GHz. Likewise, Apple Computer's 17-inch PowerBook has been touted by the company as a portable scientific and engineering workstation, featuring a significantly faster memory architecture than the company's other laptop products.
Although this is not necessarily a high-volume market, the steady influx of laptops into IT might boost PC makers' revenues even in the absence of widespread upgrades. Merrill Lynch PC analyst Steven Milunovich wrote: "We do think the shift from desktops to notebooks is a positive for the industry, given better notebook margins and shorter replacement cycles."
PC vendors can only hope IT departments' demand for powerful laptops and more memory is a leading indicator — and that the general economy will step up to the bleeding edge as this fall's crucial spending season gets under way.