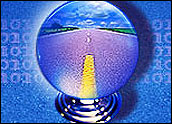 After beating analysts' expectations Friday with a surprise profit of $2.71 billion in its first fiscal quarter, software giant Microsoft acknowledged over the weekend that a repeat performance in the coming year is not likely.
Microsoft CEO Steve Ballmer told Australian news sources that the company still sees the software business as a rocky one. He pointed to a small increase in Microsoft's stock price after market close Friday as evidence that Wall Street understood the earnings increase was not a sign of a trend.
Earnings Exceed Expectations
Microsoft's first-quarter profit of 50 cents per share, including a $291 million write-off for investment losses, far exceeded analysts' forecasts of 43 cents per share. At the same time, revenue in the first quarter increased 27 percent to $7.75 billion, up from $6.1 billion a year earlier.
Microsoft chief financial officer John Connors credited the increase to customer adoption of Microsoft's licensing program. He also noted that the new licensing structure boosted adoption of Windows XP, Office XP and .NET Enterprise Server.
Results 'A Blip'
However, Morningstar.com stock analyst Joe Beaulieu told the E-Commerce Times, "The first-quarter results were a blip. They're the one who were pushing their customers to upgrade to these long-term licenses. And that's what caused the big jump for the quarter."
Microsoft's top line also was boosted by "unearned" revenue reaped from customers that have committed to pay licensing fees but have yet to make payments. Unearned revenue totaled more than $9 billion in the quarter.
Microsoft was unavailable for comment.
Licensing Transition Shaky
While participation in Microsoft's licensing program was high, Ballmer admitted that the company could have done a better job of handling issues that arose in connection with the program.
The state of the PC industry as a whole also represents a potential hurdle for future growth, according to Beaulieu, who cited a "pretty awful" industry outlook.
He said the replacement market is the only growth area area for PC makers, noting that a lack of software that fully uses PC resources is one reason commercial and consumer users are not in a rush to upgrade.
"Back in the mid- to late nineties, if you wanted to run the latest and greatest software, you probably had to upgrade your PC every year and a half," Beaulieu said. "At this point, there is very little software for consumers or the office worker that pushes a PC to its limit."