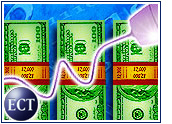 Microsoft reported a strong first quarter, with profit nearly doubling and revenues rising as the software giant began to convert customers to a new yearly payment plan. But news of a US$2.71 billion profit from the Redmond, Washington, software giant was not enough to power the stock market forward.
Mixed reports helped spark a Friday morning selloff. Sun Microsystems announced it would slash 4,400 more jobs, and eBay beat expectations but lowered its 2003 forecast slightly.
Shares of Microsoft rose more than 2 percent in early trading to $52.08 while the Nasdaq and Dow both slipped about 1 percent.
Sunny Days
For Microsoft, however, there were few dark spots in the upbeat earnings release.
The profit of 50 cents a share, watered down by a $291 million write-off tied to investment losses, well exceeded analysts expectations of 43 cents. Revenue for the quarter was $7.75 billion, up 27 percent from $6.1 billion a year ago.
Chief financial officer John Connors said customer adoption of licensing agreements was stronger than expected, helping to fuel what he called "a truly exceptional quarter."
Analysts did point out that Microsofts top line was aided by so-called unearned revenue from customers who pledged to pay licensing fees but have not yet actually made the payments. Unearned revenue reached more than $9 billion for the quarter.
Outlook Mixed
Microsoft said revenue will rise again in the fourth quarter — $8.5 billion to $8.6 billion, higher than analysts had anticipated — but said earnings will likely fall slightly below predictions. Revenue for all of 2003 is estimated to reach $32.2 billion to $32.6 billion.
"The global economic outlook continues to be uncertain; however, we remain committed to making the investments necessary to drive long-term product innovation and customer value across our businesses," Connors said.
Microsofts fourth quarter is one to be watched closely, because several new products will roll out, including the much-hyped upgrade of its MSN Internet service, which recorded 23 percent growth in the first quarter, and its Xbox Live online gaming service.
Four-Day Rally
The company acknowledged that its robust first quarter is not likely to be duplicated. The quarter saw several major customers — including ChevronTexaco, Lockheed Martin and MetLife — sign multiyear licensing agreements to use Microsofts Windows XP products.
On balance, earnings from major technology companies have been strong, starting with Yahoos report more than a week ago, which helped spark a four-day stock rally.
But many companies had lowered expectations earlier in the year, and year-to-year comparisons are now being made with late 2001, which was already a weak period for tech firms, rather than with results from the peak of the tech boom.
Small World
Still, the overall outlook remains hard to read, IDC research director Ned May told the E-Commerce Times. Pockets of strength may be the start of what is expected to be a slow rebound for the sector that will take solid hold by late spring.
"Some people may take comfort in the good news, but theres still plenty of doubt floating around," May said.
All of Microsofts global sales regions saw gains over the year before as well, with the largest increases coming in the Asia-Pacific region, where sales rose to $860 million from $692 million the year before, and Europe and the Middle East, where sales climbed to $1.49 billion from $1.1 billion last year.