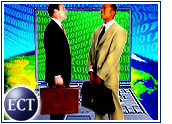 Microsoft (Nasdaq: MSFT) today unveiled new Office software, called Xdocs, which allows corporate workers to better share data by using a Web browser. Though the concept is hardly new, the innovation that Microsoft hopes will sell this new product, is that the data entered into Web forms, can be formatted using the XML (extensible markup language) standard.
The software will provide users with a set of standard XML templates that can be customized. Those templates then can be used to transfer business data among back-end systems and among different users within an enterprise without requiring further human intervention.
Microsoft CEO Steve Ballmer said the program is designed to remedy the fact that most enterprises have clumsy processes in place for sharing information among employees. Whether or not Ballmer's statement is true, this is apparently part of Microsoft's marketing strategy to appeal to corporate buyers.
XDocs, will ship in mid-2003 after two rounds of beta testing early in the year, Microsoft announced at the Gartner/IT Expo in Orlando, Florida.
Although the software is being pitched as an extension of Microsoft's existing Office software, the company did not say whether it will be bundled with the suite or sold as a standalone product. However, it is worth noting that Office version 11 is slated for release around the same time.
Free Flowing
The XDocs program will contain a design element, which enables creation of new online forms, and an editor, which can filter information to help ensure it is both relevant and accurate, Microsoft said.
The program has been in testing for several months. Solutia, a pharmaceutical firm, has been using it to control information flow during the lengthy clinical trial process, according to Microsoft.
Breaking the Logjam
Putting basic Web services tools into the hands of everyday office workers may be a way to break a logjam that has slowed adoption of such technology, Giga Information Group vice president Julie Giera told the E-Commerce Times.
"There is movement, but up until now it has been very deliberate in nature," Giera said. "The rush a lot of people were expecting just isn't happening."
XP Push
In addition to announcing the XDocs product, Microsoft is using the Gartner forum to push wider adoption of its Windows XP platform, which it unveiled exactly one year ago. The software company said it has set aside US$1 million to conduct studies of how enterprise customers can benefit by moving to XP.
Ballmer said that Windows customers that have 5,000 or more computers running an older Windows version will be eligible to undergo a review called the Desktop Business Value Proposition. The review will use a Gartner methodology that attempts to weigh the business benefits of IT investments, such as software improvements.
"If you're running the old stuff, it's time to take stock," he said. Gartner data shows that 73 percent of commercial PC users will still be running older Windows versions by the end of this year.
According to Microsoft, the studies will take one to three weeks to complete, and results will be reviewed by Gartner. It plans to start conducting reviews by November 1st.
Microsoft executives were unable or unwilling to comment on this announcement.