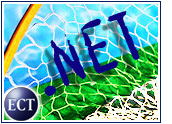 Microsoft (Nasdaq: MSFT) and Hewlett-Packard (NYSE: HPQ) each will spend US$25 million during the next two-and-a-half years in an effort to foster more widespread adoption of the .NET Web services initiative among e-businesses.
The $50 million campaign, announced late Monday by the two tech giants, calls for the training of 5,000 HP sales professionals on the finer points of .NET and the certification of another 3,000 HP service workers on the software.
HP, a longtime partner and reseller of Microsoft's products, said it also will add up to 1,800 new sales professionals worldwide to spread the word about .NET products.
Cause, Effect
While analysts have puzzled over seemingly slow adoption of .NET — and Web services in general — Microsoft and HP claimed their partnership is designed to meet demand that already exists.
Mike Sinneck, corporate vice president of worldwide services at Microsoft, said better-trained HP sales staff will enable companies that are already implementing .NET to realize more gains from their investment.
As if to underscore the point that .NET is already being implemented and is not a coming attraction, the companies cited the example of food giant General Mills (NYSE: GIS), which is using .NET to communicate directly with 25,000 stores. The Web-based communications have replaced a paper-form system that hampered sales efforts, the companies said.
Sue Simonett, director of information systems at General Mills, said the company's .NET platform will be used to roll out new grocery items to the marketplace and eventually will be expanded to track all products.
Back on Track
Microsoft chairman Bill Gates has admitted that the software giant initially stumbled in the timing and execution of its .NET strategy. Specifically, Gates said his company may have moved too quickly on the effort, first launched in 2000, and may have failed to adequately communicate the benefits of the Internet-based software initiatve to users.
Businesses seem to agree. A Gartner survey released in August found that the majority of mid-size businesses are reluctant to adopt .NET right now.
Dot-What?
Gartner analyst David Smith told the E-Commerce Times that .NET and Web services in general have suffered from confusion and failed attempts to broadly define the initiative. "Microsoft is improving in how it delivers the message, but it's got a long way to go," Smith said.
He noted that the HP partnership may be aimed at helping to shore up Microsoft's Web services push against its competitors, which include IBM and Sun Microsystems.
Last month, Microsoft unveiled a .NET-based partnership with consulting firm PricewaterhouseCoopers and the Nasdaq Stock Market. That deal is intended to enable investors to access and perform analysis on Web-based data using Microsoft software.