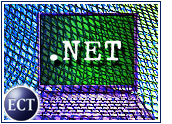 Microsoft has generated so much hype about .NET that many are wondering whether the software giant's technology for connecting information, people, systems and devices can live up to its billing.
.NET uses XML (extensible markup language) Web services as building-block applications that connect to one another via the Internet. But customers have given the technology a lukewarm, if not downright cold, reception, leading many to question its future prospects.
Is Microsoft stumbling in the dark in its efforts to compete with Java, the Internet's native son?
Microsoft executives declined to comment about .NET's future, pointing only to customer case studies as evidence of successful implementations and of the benefits of XML Web services.
Not If, But When
But analysts say .NET is not dead yet. In fact, .NET technology is maturing by the minute, and Microsoft is betting its entire next-generation software infrastructure on XML Web services tools.
Gartner analyst Mark Driver told the E-Commerce Times that the transition to .NET is not a question of if, but when.
".NET is the very beginning foundation, the building blocks on which Microsoft will base virtually its entire corporate strategy over the next five to 10 years," said Driver. "There is no forward migration or continued evolution of the existing infrastructure."
The Future Is Coming
According to analysts, Microsoft has finally accepted that the Internet, particularly e-business, is an ecosystem in which it is unlikely to be a dominant force. Unix, Linux and mainframes are not going anywhere.
.NET is the underpinning of Microsoft's new model. And while it is overhyped and largely immature, it is still the future.
The Visual Studio rollout in February was the watershed event that made .NET real for a mass audience of developers. In five years, analysts said they expect the vast majority of Microsoft-based solutions will be built almost entirely using .NET technologies.
Making the Transition
So, where is the flood of deployments? It turns out that developers are taking an incremental approach to transitioning from legacy applications to .NET. Therefore, a hybrid model is likely to dominate for the first three years.
"All of the new-generation work is likely to be .NET-based, but there's not a lot of reason to rush out and rewrite thousands of lines of Visual Basic code overnight," said Driver. "We expect to see a module-by-module, subsystem-by-subsystem replacement over a longer period of time."
In order to drive deployment, experts noted, Microsoft must eat its own cooking, alleviating developer trepidation by building its own products based on .NET.
Microsoft's Challenge
But Microsoft's biggest challenge will be keeping its tools easy to use while enabling developers to perform more complex tasks, according to Forrester Research analyst Joshua Walker.
"This is a skills shift for a lot of developers," Walker told the E-Commerce Times. "The question is, will Microsoft get the tools to their developers fast enough before they switch?"
Walker said the Java camp still has the advantage, with talented programmers who understand distributed computing. From that standpoint, the Java world need only make its tools easier to use in order to hold its favored position.
Continuing Competition
Going forward, analysts said they expect to see heavy competition between .NET and Java, although neither toolset will be marginalized.
"Don't expect .NET to be successful overnight," said Driver. "It's going to [be] a five-year transition, but it's inevitable. This is Microsoft's strategy of the future."