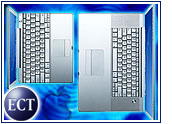 This year has seen a lot of ink spilled over Apple's PowerBook line of computers, in particular the high-end 17-inch model. Critics drooled over the unprecedented size of the laptop's screen and the elegant and relatively lightweight case, to say nothing of the sex appeal of the polished aluminum finish.
I've been using the 17-inch PowerBook for the last three months on a daily basis, and I think much of the hardware lust surrounding it has ignored the main benefits of the machine.
For example, few reviews of the big-screen PowerBook have mentioned the operating system software, OS X, which to my mind is the key to many of the computer's advantages over its Windows brethren. In fact, I think the 17-inch PowerBook is the first notebook that's really capable of running Apple's OS X software with very good performance.
Leaving that aside, the machine's main appeal lies in its excellent speed and reliability when executing everyday tasks. The PowerBook is not my first choice of Apple laptop, as I'll explain later, but I highly recommend it for anyone seeking better computing resources, not just those in the traditional "Pro" or "Creative" ranks that serve as Apple's core base.
New-Era Architecture
The 17-inch PowerBook features several breakthroughs in system architecture. Like late-model titanium 15-inch PowerBooks and the 12-inch aluminum version, it uses the Motorola 7455 PowerPC processor, which for the first time brought Apple laptops up to 1 GHz and which was voted one of the best embedded processors on the market by research firm Microdesign Resources in 2001.
To distinguish the computer, Apple also has beefed up other features on its main circuit board. It added a 1-MB level-3 cache to store data frequently used by the processor, as well as a faster bus between the processor and main memory. That bus runs at 167 MHz, in contrast to the 133-MHz standard on other G4 laptops, dramatically increasing the speed of fetching data.
The 17-inch PowerBook even gets a double hit from the bus by using what's called double data rate (DDR) RAM, which can transfer bits twice in every clock cycle. This approach makes it faster at memory transfers than either the 12-inch PowerBook, which also uses DDR, or the 15-inch models, which use single data rate memory.
Although there is some overlap in electronics between the 17-inch and 12-inch laptops and Apple's high-end desktop G4s and Xserve server, the amazing thing is how many connections the company has crammed into the PowerBook. The unit contains an 800 Mbps Firewire connector for cameras and the like; a Gigabit Ethernet port to take advantage of the coming wave of desktop gigabit connectivity; Bluetooth technology for short-range connections to PDAs and laptops; and 54-megabit WiFi wireless networking, which Apple calls Airport Extreme.
True Desktop Replacement
The result is a portable computer that really can be used as a desktop replacement. While sporting fewer ports than either G4 desktops or the upcoming G5 Power Mac, the 17-inch PowerBook's two USB ports and two Firewire connections compare favorably with those all-frills unportables.
The plethora of network connections ensures there are three ways to share files between two computers in close physical proximity. You can connect them over an Ethernet cable, establish a Bluetooth short-range wireless connection, or use one computer to create a WiFi network that other computers within range can join. (You also can connect PowerBooks over Firewire, which is actually faster than any of the other methods.) Of the three main approaches, Bluetooth was the simplest to set up and delightfully easy to use. With just a couple of keystrokes, a user can send a file or collection of files wirelessly to another PowerBook nearby.
The computer's faster memory and processor meant I was able to use all the documents and Web pages sailing over those connections. I tested a unit on loan from Apple with 1 GB of DDR RAM, the maximum. (A company called Trans International now sells memory chips that will let you boost maximum RAM to 2 GB.) The result was an extremely responsive system that allowed me to simultaneously work on spreadsheets in Excel, surf several open windows of Web pages, browse an inbox packed with messages, scan documents with my Canon scanner, read PDF files, burn movies and data to the built-in SuperDrive and search through files on disk, all while listening to iTunes.
Incidentally, when I took the PowerBook on the road, I used a sleek, lightweight bag designed just for the machine, from a company called Acme Made, based in San Francisco. This bag is much more streamlined than the average laptop bag, and it was the envy of most notebook users who saw me with it. You can see Acme's lineup at http://www.acmemade.com/bags.html.
Not Just for Pros
Observers have seized on the US$3,200 retail price of the laptop to conclude that the machine is primarily for the pro graphics and film crowd. I disagree. For the last several years, Apple has been steadily offering more features at reasonable prices, reducing the price premium on its machines. Considering what you get for that $3,200, I think the 17-inch PowerBook represents a tremendous value.
Compare it with what you might have gotten five years ago for a similar price. Back in the spring of 1998, Intel's Pentium II was hitting the streets at a blistering 266 MHz. With MMX capabilities for accelerating multimedia performance, laptops sporting the chip and, in a few cases, a DVD drive, were cutting-edge. For a 266 MHz machine with 64 MB of RAM, a DVD drive and a weight about that of the PowerBook — say, 6 pounds — you could expect to pay between $3,100 and $4,900.
As I mentioned, the 17-inch PowerBook is not my first choice among Apple's notebook computers. I really appreciate the 15-inch models for their lighter weight — 5.4 versus 6.8 pounds — and slightly smaller case. As a freelance writer, this "middle bear" offers greater mobility. I would love to see the 17-inch's superior electronics put into that smaller frame. However, were I outfitting an office with sales reps or anyone who has to travel a lot, I definitely would spring for a $3,000 laptop that would make them more productive, give them a nice screen to work with and let them hit the road without a hitch.
By the time you read this, Apple may already be moving 17-inch laptops out of the channel to make way for newer models. At least, that seems like logical speculation: The machines have been shipping since March of this year, so a revamp would seem timely. What made the machine striking at its debut, and what continues to impress me as of this writing, is that it delivers the performance of a desktop in a portable unit. Whatever comes next, the aluminum PowerBook has set a platinum standard for performance, reliability and connectivity among notebook computers.
---
Note:
The opinions expressed byour columnists are their own and do not necessarily reflect the views of the E-Commerce Times or its management.
---