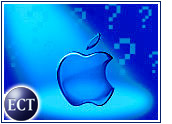 On Monday, Apple Computer chief potentate and executive kibitzer Steve Jobs presented Apple's latest high-end computer system lineup, driven by the IBM PowerPC 970 processor and branded by Apple as the G5. The systems surprised observers with speeds higher than what IBM promised when it debuted the PowerPC 970 a year ago. In fact, the hardware adds up to what Apple claims is the fastest desktop computer, leading Jobs to punctuate his trademark marketing pitch at the developer conference with the continual refrain, "Pretty cool, huh?"
But there was a little bit missing — 32 bits, actually. Jobs made much of the fact that the G5 Power Macs will be the first systems with a 64-bit chip, allowing the processor to utilize more main memory. Of course, that capability requires support from the operating system. Although Jobs showed off numerous "really cool" features in Panther, the next version of Mac OS X, there was no mention of when OS X will offer full 64-bit support. It's all pretty cool, Steve, but where are the other bits?
Back in the Game
This is not to say the G5 was a disappointment. It was mostly all great news from Apple, as details of the new systems handily beat expectations. In particular, the highest-end G5 system will offer a 1 GHz front-side bus — the set of wires that connect the microprocessor to main memory, the hard drive, the graphics adapter, and network and other devices. Thomas R. Halfhill, a chip analyst with Microdesign Resources, was impressed, having seen IBM's PowerPC presentation last year. "The gigahertz bus goes directly to addressing the bottleneck in high-end systems," he said. That and other innovations, he believes, put Apple "back in the performance contest," where the company has not been in years.
Moreover, while Intel will continue to increase clock speeds to 4 GHz and higher on its Pentium chips by year-end, Halfhill said the company has pretty much done what it can with the chipset — the extra computer chips that add features to the system. That means that come August, when the G5s actually roll out, the many features Apple has crammed into its chipset should be competitive in the PC market for the duration of the year.
Surprise, Surprise
Aside from the gigahertz processor bus, there were a couple of other surprises, including a memory controller chip that Apple designed, which allows the company to connect up to 8 GB of memory. What's unusual is the 128-bit double data rate synchronous DRAM (SDRAM) connection to that memory, allowing a total of 6.4 GB of memory streaming to the processor(s) per second. That is comparable to what Intel puts into its high-end 875p chipset, but Intel does it with two 64-bit chips, called "dual channel," so the Apple configuration appears a bit unusual.
Also surprising was the use of a faster (133 MHz) PCI-X connector for fast peripherals. Intel has chosen not to use this bus in its 875 chipset, which should give Apple a lead until the much faster PCI-Express arrives several months later.
Perhaps the most important number yesterday was 35 dBA, which Jobs indicated is the noise figure of the new machine. Apple has put nine fans into the G5 case, and given the brouhaha over the last round of G4s — accompanied by parts trade-ins and software fixes — many professional users could be forgiven for cringing. "What, nine times as loud?" Jobs clowned in mock consternation. Happily, 35 dBA is somewhere between a whisper and rainfall, thanks to computer control of each fan.
Those Missing Bits
However, what about the missing 32 bits? There were plenty of demonstrations Monday to show that the G5 running OS X "Panther" will be great at doing lots of things. Executives from 3D modeling companies showed the machine whooping a dual Pentium Xeon from Dell on motion capture animation, while the folks at Mathematica proved with a series of fractal renderings that the G5 arguably could compete with a Unix workstation. "And it's faster than all of those," said a Mathematica representative.
Still, none of this really had anything to do with an individual processor doing something it couldn't with 32 bits — like, say, tossing around a database file larger than 4 GB in main memory. And the fact that OS X is not there yet is plain enough if you root around in the G5 documentation posted by Apple yesterday.
The white paper says the next revision of OS X before Panther, 10.2.7, "has been enhanced to leverage the capabilities of the 64-bit Power Mac G5." But it also says just below that, "Mac OS X takes full advantage of the 8 GB memory capacity of the Power Mac G5: It can now allocate up to 4 GB of memory per process to easily fit memory-intensive applications into RAM."
Not Quite There
Now, using two separate processors to access that 8 GB of memory is impressive, but it's not the same as having each processor access 8 GB. As Apple admits on page eight of the same brochure, maximizing the utility of 64-bit computing will require further enhancements to Panther and any OS X apps. So, for the time being, this really isn't a 64-bit desktop computer.
All in all, however, the G5 looks like a great computer at a swell price, and a nice road map for the future. I have little doubt that Apple can take Panther, or a follow-up, to the next level. In addition, PC buyers who still take it as an article of faith that Apple is always more expensive than Wintel for similar performance may have cause to reevaluate that view.
It would have been nice to find out yesterday just when Apple will be able to call its spiffy machine a 64-bit computer for real. Nonetheless, I'll take a 32-bit computer dressed up like a 64-bit speed demon over a two-bit computer any day.
---
Note:
The opinions expressed by our columnists are their own and do not necessarily reflect the views of the E-Commerce Times or its management.
---